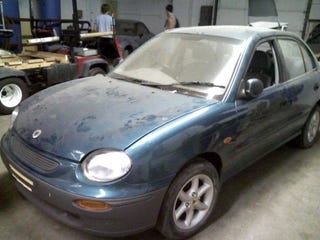 In light of the post today about the mysterious EV1s that are scattered across campuses in this country, I bring you another mystery car from the depths of this country's higher educational system. This here used to reside in the basement of the Kettering University Academic Building. I say used to because the area that it was in was just renovated into a power electronics laboratory, and as far as I know it has now been scrapped, sadly.
As you can see in the background, there was also an EV1 in this same room once upon a time. It has now been donated to a local museum I believe. I am unsure how complete it was, but it did have the charging station with it.
So what is this mystery car, you ask? No one is really sure. It was right hand drive, manual, and appeared to be similar in style to a Dodge neon. Oh, and it was 2-stroke.
Yes, you read that right. 2-stroke.
After some research I was able to once upon a time come across some information on it. It was a collaborative effort between a Michigan company, Venture Industries, and ZIL, the Russian automaker. All powered by a 3 cylinder Orbital Direct Injected 2-stroke engine. It, of course, never happened, and what I believe to have been a prototype was left to sit in the basement of a university.
Many a student had tried to breathe new life into it (including myself, who got as far as having the engine turning over) however no one ever had enough access or time to get it actually going.
Some more information can be found in old random websites around the internet, such as:
http://wardsauto.com/news-amp-analy…
http://www.just-auto.com/analysis/exclu…