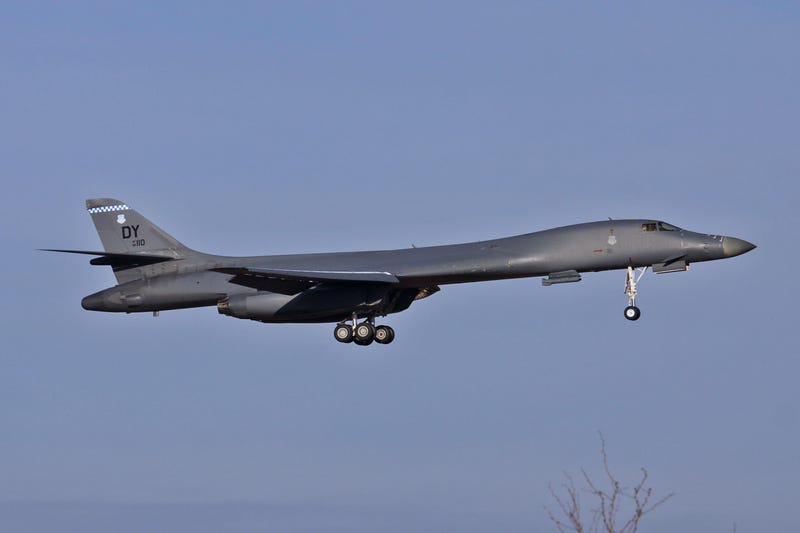 Last Friday, I spent some time out at Dyess AFB in Abilene, hoping to do a little photography. It's been pretty slow out there lately, but I got some shots that day, but not just ordinary B-1 photos like the one above.

The first surprise was directly overhead. It looked to me like the B-1 was dumping fuel. I've never seen this before. Another spotter said he could smell the fuel, but I couldn't (my cigar was probably masking it).
But then he came around into the south wind and landed, still dumping fuel (if that's what he was doing) all they way through his touch-and-go.
When the next Bone came by, I noticed it was a much smokier pass than usual. This time, he didn't land, but kept going, and you can see that the left engines are on full afterburner, while the right engines are not. Note that the turkey feathers are open on the left side, but closed on the right. Then a second pass, but this time he waved off the landing and climbed out. Again, you can see the same engine configuration if you look closely.
Then a nice banking pass for the camera, and a landing.
On Saturday, there was absolutely nothing happening. But then, just as I was getting ready to pack up, the Navy showed up and did a flyover with four F/A-18s. I was hoping they'd come around for a landing, as I've seen the Navy use Dyess before, but alas, they didn't. They just flew off to the east, probably heading to NAS JRB Ft. Worth.