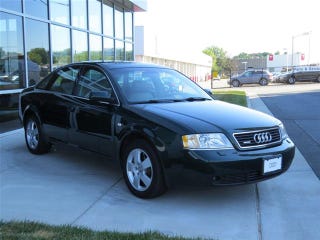 The A6 has died. As some of you know, my prized possession is of no more value. To me at least. A giant list of problems arose, to the tune of $8,000. Something that I simply can't afford to have done and don't have the time, patience or space to do on my own.
I bought a 16 year old twin turbo, manual Audi because I've always wanted one and I love Audis. Nobody could tell me otherwise, even my own instincts. I didn't care that it was old and unreliable, it was what I wanted and less than what I technically could afford at the time. With only 107,000 miles on the clock and one owner before me, it was a rare sight and I treated it as such. I washed it every week, waxed it every month and intended to keep it for at least five years. Around four months and 4,000 miles later, it finally let go......
The A6 did everything I needed it to ever do. It schlepped around loads of friends and family, took me snow drifting (and some other irresponsible acts that I shall not mention.) And it never complained one bit. Well, kinda. I hopped a curb once and didn't damage anything somehow, so there's that. Either way, it was still a great car.
The A6 was imperfect. There was no air conditioning, or working heat, it got around 12 mpg thanks to bad 02 sensors, the turbos made odd noises sometimes and the tires were beyond shot. And whoever sits in the backseat would have to remeber which side has the operable window and which side doesn't. But it was still great. My friends liked the heated rear seats, I liked the heated front seats and all was well. This was all until it decided to throw in the towel.
Going up a hill with a full car, it started smoking like crazy. It didn't stop and I was losing power rapidly. By the time I reached the top of the hill, the car was dead. The car that was more important to me than certain family members was no more.
Do I regret buying it? No, I regret nothing. The A6 was a steriotypically unreliable car that I frankly expected to somehow blow up as my friends thought it would and the day that it died, it was bittersweet. I'd still enjoyed the car immensely, but it was time to move on.
With that, farewell A6. You gave me a lot of great memories.....