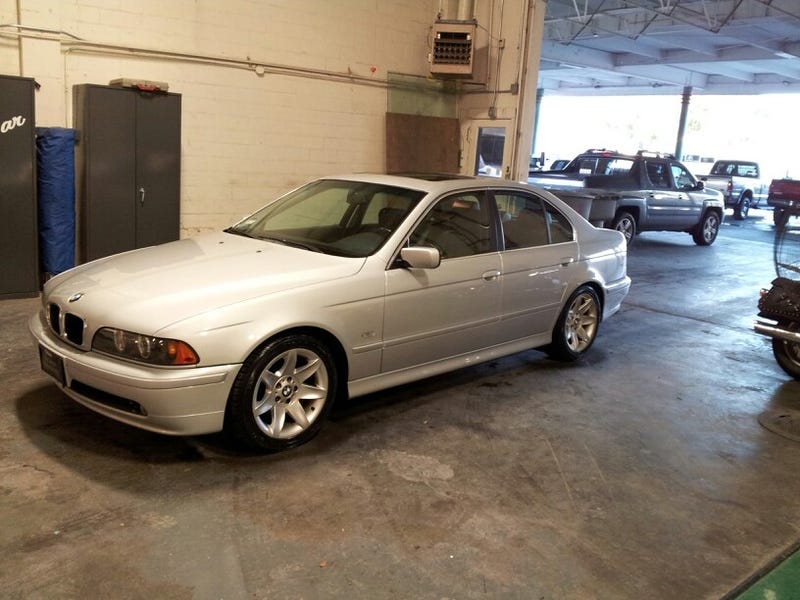 This is (was) my favorite car I have ever owned, a 2002 BMW 525i. It had 120k when I bought it in November 2011, and it had 143k when I let it go. Let me explain the title; I didn't just donate it, and I had it advertised on CL and I could have sold it for good money, it being a stick shift and all.
I drove it every day, and every time I got out of the car I realized that I loved the car more than I could sell it for. I decided to give it to my youngest brother. He goes to University of Colorado @ Boulder, and he works his ass off for tuition and doesn't have a car. I knew he would take care of it and appreciate it, and keeping it in the family would give me opportunities to drive it again later.
It wasn't entirely problem free. I hit a raccoon going 70 mph on a backroad, and the car had to be towed thanks to rapid coolant loss. After which, I am a firm believer in comprehensive insurance.
$4,000 of insurance company's money later, I was on the road with a new bumper, foglight, A/C condenser, radiator, radiator core support, and some other stuff. Then there was the time when my alternator was acting funky and leaving me stranded when it was hotter than hell outside, and a $50 voltage regulator solved that problem. When my brother took the car, all I had to do was replace the stupid cracked composite valve cover and the ambient temp sensor. The car gave me no problems; so much for German reliability complaints.
I highly recommend a 6-cylinder E39 to anyone, because they are just great all-round cars. Not the V8 so much, because if I was paying for V8 maintenance on a 5er I'd rather do it with an M5.
I took one last photo with a vintage filter. Meh.
What did I replace it with? Something stupid. Really, really stupid. I love it. It's nicer than my house. When I'm done detailing it, I'll expose my (most likely) future regret to oppo. It will be glorious.