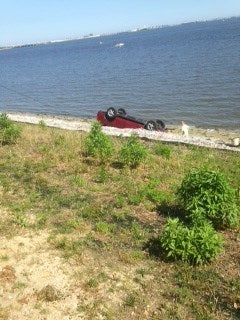 It all happened about 10 minutes from where I live. From NBC40 News-
Scary moments as an SUV rolls down an embankment and nearly into the water Monday afternoon.

This happened just after 3:00 p.m. at JFK Park in Somers Point.

Police say the 72-year-old driver pulled in to a parking spot and just kept going.

The SUV rolled down an embankment and flipped over onto a short strand of beach.

Pablo Lora witnessed the incident, "I was here cooking and I heard a woman screaming, call the police, call the police, and I look over and there and there's a jeep went down, so I ran down there, and I saw the woman was stuck so I broke a window and brought the dog out. And then the police came and everything.

The driver suffered only minor injuries. She refused treatment on scene.

A dog and cat were also in the SUV, police tell us they, too, are okay. The incident remains under investigation.