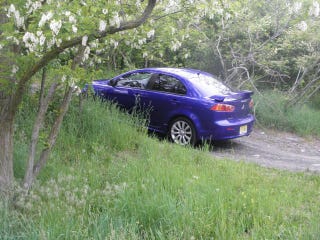 No, it's not an Evo X. No, insurance companies don't care about that.
Oh the Mitsubishi Lancer, a family car that costs more to insure than a Galant. The 2008 model was a big improvement in the looks department than some of the previous generations of Lancer though.
(Disclaimer: Mitsubishi wanted me to drive a Lancer so bad that they let me buy one used from an Acura dealership!)
Exterior: 8/10
There's no denying that the Lancer is one of the better looking midsized japanese sedans. The GTS model comes with bigger wheels and a bigger spoiler. It had a much more aggressive front end than previous Lancers did. Overall it just had a much sportier appearance than some of its competitors. And did I mention the spoiler?!
Interior: 5/10
The materials are cheap. Cheap plastics everywhere. The cloth seats were a little hard but not uncomfortable, even on long drives. There's also a long stripe of faux carbon fiber that is apparently impossible to be cleaned. A digital info panel sits between the gauges and is pretty simple to use while offering a nice look.
Acceleration: 4/10
This car has a 2.0 litre 4 cylinder naturally aspirated engine. Zero to sixty takes 10 full seconds. It's no Evo but it's not really quick by any standards. The Lancer is only a front wheel drive car as well so no sweet AWD launches.
Braking: 6/10
The brakes work well in the Lancer, nothing to really write home about but it stops quickly enough when you need it to.
Handling: 3/10
It's front wheel drive and fairly heavy in the front end, so it understeers pretty severely. Couple that with steering that gives nearly no feedback and feels pretty numb and you've got a recipe for a car with some boring handling.
Gearbox: 4/10
The Lancer GTS had a CVT transmission with paddle shifters behind the steering wheels. The paddles never felt like they did anything. Probably because they were mated to a CVT? It does gain some points for being a pretty quiet even at higher RPMs.
Audio/Toys: 6/10
The Lancer has a decent sounding stereo setup with MP3 connectivity in the stock headunit. That's more than what can be said for most cars I've owned. Controls on the steering wheels are almost surprising because of how cheap the interior is. I'll also count that spoiler as a toy because look at how much fun there is to be had with it!
Reliablity: 5/10
I can't give this a truly accurate score because I only owned the car for six months. In those six months though I had several fuses blow for some reason and the HVAC system just quit out on me. All the parts functioned individually but when trying to use the heat or A/C while driving, they just didn't work. Bizarre.
Fuel Economy: 6/10
The Lancer GTS is rated for 22/29mpg by the EPA. I averaged roughly 25mpg during my time owning it. I also drove it like it was a rallycar on a daily basis.
Value: 5/10
This car cost me 9 grand back when I bought it and that's not too bad for what you get. At the time it was only three years old and had 50xxx miles on it. It's a good looking alternative in the midsize sedan segment. It's boring though. And it's slow. And if you're a younger person, an insurance company will insure this like it's an Evo. I had to shell out two thousand dollars every 6 months for full coverage. That's four thousand per year. For a better looking Camry.
Overall: 52/100
Pros: Great looks, MP3 connectivity, Spoiler
Cons: Boring, costly insurance, not an Evo alternative
Authors note: I went down a nostalgia trip when writing this and started missing owning this car. I know what I have is better but this car was a blast to own and if insurance wasn't so expensive, I'd still have it.