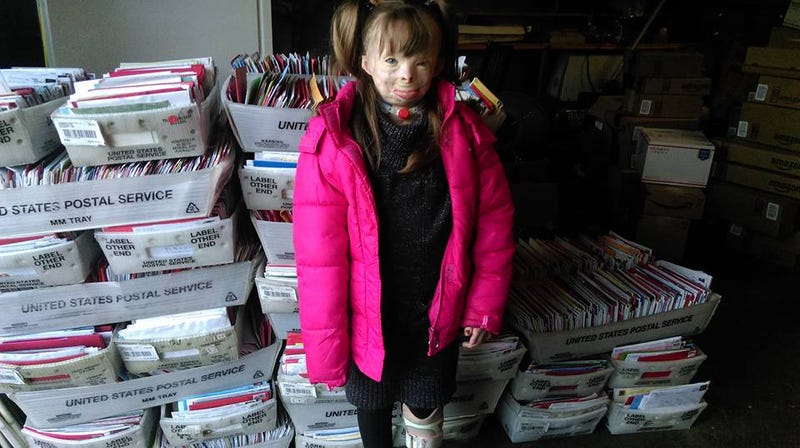 To those who sent cards, congratulations! Not only are you awesome, but you broke the post office!
For those who missed the original story, Sa'fyre survived a fire that killed her father and siblings and cost her a hand and a foot. She has gone through multiple surgeries with many more to come. A couple weeks ago she was given a card tree, and she said what she wanted most for Christmas was cards for the tree. Word made it to the internet and incredible things happened.
Cards have poured in from dozens of countries across the continents, along with thousands of gifts and over $100,000 donated to help pay for her future medical expenses. The latest round of mail alone contained 185,000 cards and over 4,000 packages. Sa'fyre and her family (she's now being cared for by her aunt and uncle) know there are too many toys and presents for just one person, so they intend to donate most of them to other children in need.

The story has made news around the country and around the world. Teams of volunteers, made up of everyone from Girl Scouts to motorcycle clubs, have come out to help open and sort through all the cards and gifts. Now Baking Memories 4 Kids is even sending her and her two cousins to Disney World after one of the kids in her class nominated her for the prize. It has been absolutely incredible to follow.
This is the greatest display of the true spirit of the holidays that I've ever seen. Have some feels:

Side note, Sa'fyre is sending Adrian's bear back, with a friend to keep it company.