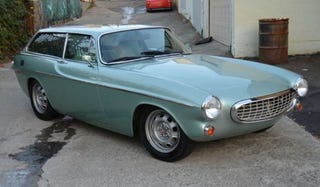 This the the newest BaT feature, and it is exactly the reason why I keep following them: They just have the right mix of expensive, matching number cars and very well done improved/hot rodded vehicles. Kind of like Speedhunters for classic cars for sale.


The ad says that this Volvo had the engine & transmission of a Honda S2000 installed. The F20C is one of the best sportscar engines produced and makes a whopping 120hp per liter.
On the exterieur everything seems to look right. I love the deleted bumpers and the lowered suspension ond steelies - it gives the Volvo a strong club racer vibe. It is exactly the kinf of car I would build if I had either money or skill. Right now all I can do is drool over the ebay ad and watch at which price it will sell. Currently it sits at 16.3k $.
Edit: Daily Turismo posted this car before back when it was for sale on craigslist.