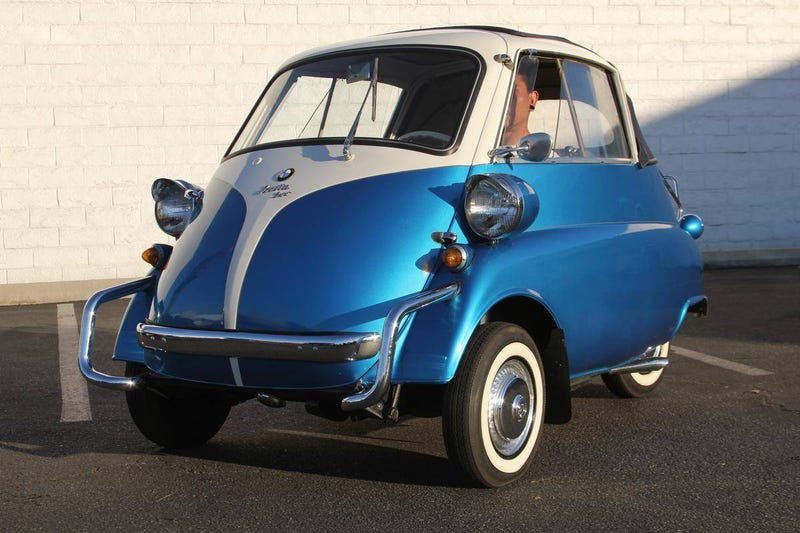 What did I get to drive around our future daughter? Not an Isetta...
Previously:
I ended up buying a Subaru WRX STi. I've been shopping inside my head ever since we decided to try for a baby, so my choices were already pretty well narrowed down when I started shopping in earnest. The requirements, in order of priority were: big enough back seat (and door) to put a rear-facing infant seat, reliable, fun to drive, manual transmission, fast, and furious.

What else did I consider? Well, I used Turo to drive a 528i and an '11 WRX hatch. The 528i was basically the perfect car. Completely competent in every way, including handling and just enough speed. However, it was just too boring for where I'm at in my life. Same goes for the 328xi that I drove using ReachNow. The WRX hatch was the opposite. It was practical, but was very loud and twitchy. The shifter felt like digging something out of a toaster with a fork. But it was sooo fun. It really stuck with me.
I test drove an E90 M3... Loved it so much and even found a few used examples, including a couple from CarMax, which would have satisfied my reliability criteria. I was even trying to pay to have the perfect one transferred here, but CarMax took over 3 weeks to go from "we've reserved this car for transfer for you, Bryan" to getting my credit card info, so the car sold in the meantime. Horrible customer service across the board, so I had to reconsider whether dealing with these people would be worth it for their warranty. I looked again at a few E90 M3's (which are incredibly rare, especially with a manual trans), but the main problem with them? Too similar to my 135i, which I loved. I know I'm messed up in the head, but getting into the M3 felt exactly like driving my 135i except bigger and with less torque. Absolutely amazing car, don't get me wrong, I just like trying something different with each new vehicle. Pretty much as simple as that.

Then I tested some new cars in the price range of the used M3's (plus repairs/warranty) I was looking at, thinking that there'd be no way they would measure up. With the exception of the Focus ST, every car I tested was something I could see myself owning. I found an STI near me only because I wanted to compare it with the WRX, which I liked a lot. Well, the STI was better in every way that matters to me. It feels like a racecar. It makes all kinds of weird noises. It's stiff but not harsh. Oh yeah, and it has a big fuckin' wing, deal with it. Yes, it's obnoxious, but that's kind of what I want right now before I get too old. In 10 years, cars are only going to get more isolated, quieter, less involving, and possibly not even driven by humans. For now, I want something that makes me work for it a little. The STI does that.
Outside of the E90 M3, the practicality of the STI was by far the best. It's the only one that I could sit in front of the baby seat without any legroom compromise. The trunk has may more storage space than the Golfs or Focuseses. I'll fully review the STI after I live with it for a little bit, but the main reasons it beat out the competition were the size and the fun factor. The interior and ride quality are good enough and more importantly? My wife likes it.
Well, here it is, in my garage. My first new new car and so far (3 days in) I love it. Sticking to the suggestions for the break-in period is hard, but I'm doing my best. Thanks for reading.

tl:dr: I vape now.