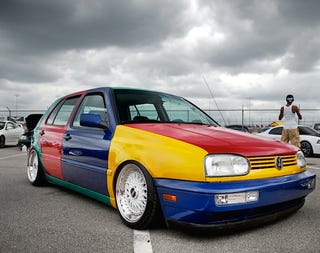 Seeing that story about the Subaru Concept on the FP made me immediately think of these. I never really liked them, but they are very interesting. So, I decided once and for all to try to find out more about them. Turns out there was no other reason they were made other than that people seemed to like the Harlequin Polos in Europe. So they made 264 Mk. 3 Golf 5 Doors in this color scheme for the US. Fun fact...the Chagall Blue and Pistachio Green were not available at all on US cars apart from this model. Too bad too, the Pistachio Green is a beautiful color. Rumor has it that there is still one out there that has had all its panels swapped to be entirely this color. Of course, I didn't know any of this 5 minutes ago, I read it all right here:
http://www.thetruthaboutcars.com/2013/03/volksw…
The best part...it was written by our own Doug DeMuro. Excellent writing as always, Doug. Really glad I decided to investigate this just now.