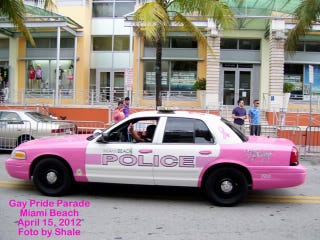 I'm driving to the bus station early in the morning on a local highway (rt23 Wayne, NJ) and some brah in his brah-truck Ram is cutting people off, and lane hopping. We stop at a light and he blatantly jumps the light and proceeds to cut off more people, lane hop some more, and easily do 80mph+ in 50-55mph zone. All this with a state trooper behind him.
Does the trooper turn his lights on? Nope. Does he pull him over? Nope. I know the trooper sees everything, because it's all happening in front of him. I know some of you are thinking that maybe the brah in the truck is a cop. But at one point the trooper hauls ass and catches up to said brah, who is clearly unaware of the trooper's presence because he's speeding right up until he notices that there's a trooper behind. Then he slows down and changes lanes as if nothing was going on. What a way to serve and protect asshole...BTW this is the same highway that my sister got a speeding ticket for doing 67 in a 55, because she was rushing to see our baby sister who passed out at school. So yeah, that pisses me off...
If you're speeding and lane hopping, fine, whatever- you're on your own. But jumping the light and cutting people off for really no reason?!?!?! That's where I draw the line. You wanna be an asshole and put your own life in danger? Don't care. You put my life and the lives of other drivers in danger? Go fuck yourself! What kind of horseshit is that!?