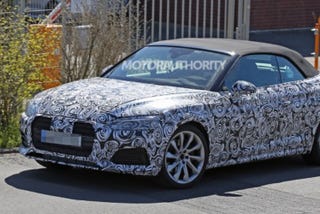 A few weeks back, I followed a 2018 Q5 test mule around (of which I recently found more pics of on my phone thanks to "burst mode"), and then I saw but couldn't get a photo of a Merc (probably CLA). This morning, in rush hour traffic, on a main road, heading towards downtown St. Petersburg, there goes another one. I could not get a picture, but it was the car pictured above, the 2018 A5 cabrio. Based on the camo wrap, it might be the exact same car.
So what gives? I go from never once having seen one of these test mules to seeing three in about a month. Since when did the St. Pete/Tampa area become a hotbed for testing cars?
It is hot, humid, and the traffic sucks a lot of the time, so this would offer them some good data in shitty conditions. Do they think that no one will notice these cars? People do, because most people don't know what that wrap is and have never seen it before. The Audi Q5 was literally a head-turner. Everyone was staring at it as it drove by them.
Anyone have an thoughts on this?