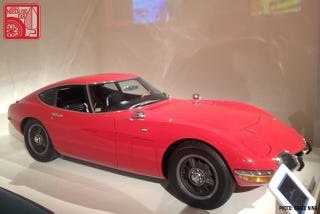 From Japanese Nostalgic Car, this Toyota 2000GT just sold for $968,000. It's a California car that's been kept in a private collection for more than ten years. It was sold at a Sotheby's and RM collaboration auction they called "The Art of the Automobile".
The 2000GT has just recently seen a huge uptick in value. Several years ago a million dollars for any Toyota would be considered absolutely crazy, but now 4 2000GTs have sold for around that price. Check out the Hagerty valuation guide to see the change visually.
I think it's part of an upward trend as Japanese classics gain more popularity with more traditional collectors. Another great example of this is the Mazda Cosmo. Check out Hagerty's valuation here:
Both cars have almost doubled in value since 2011 with the Cosmo playing catch up. I'm glad to see the Japanese classics getting some much deserved attention and respect, but hate the fact I may never own a 2000GT. I've still got my eyes on a Cosmo though...or maybe a real Hakosuka GT-R...