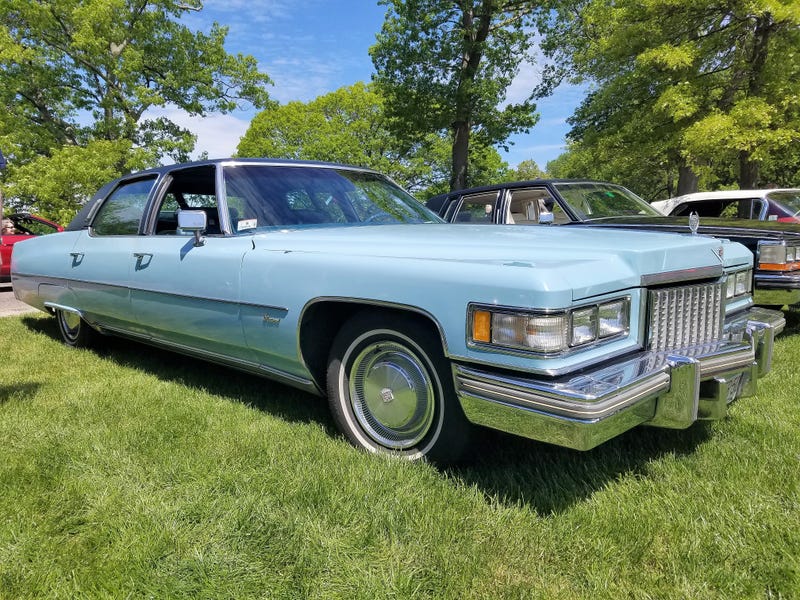 Yesterday's Cadillac show was way more diverse and exciting than I expected it to be. Of course, there were loads boats and a handful of prewar cars, but interesting modern stuff showed up too, from Hennessey HPE cars to a brand new ATS-V. I also shot a quick video of a this insanely loud, back firing CTS-V race car:
I don't think there were any mufflers on this whatsoever. It was glorious. There were other V cars there too, even a wagon!
That's the end of the modern stuff. Here are the boats, starting off with a glorious portrait of vintage Cadillac owners in their natural habitat:
There were a handful of early 20th century cars around. The owner of this ancient thing had a unique setup under the hood; triple carbs from an old Chevy pickup. He said the old flathead had major vapor lock problems before that modification was made. The car also had a really unusual suspension damping setup. Hydraulic pistons limited the motion of a series of levers that were attached to the front axle.
Here are a few interior shots, starting with the surprisingly spartan cockpit of this blue roadster:
Watchlopnik: I learned from the owner that the "Jaeger" clocks you see in vintage cars like this one were indeed made by the company now known as Jaeger-LeCoultre, a high end (4-5 figures) Swiss watch manufacturer. I've always wondered if that was the case and I'm glad I finally asked.
As far as I'm concerned, the interiors of sixties and seventies Cadillacs are just as much fun as the exteriors. They're totally insane. The fabrics are wild, the dashboards look like they belong in a spaceship, and they all have massive chrome plated trim pieces everywhere.
As always, the parking lot at these shows is also interesting.
Yesterday's show was the first of many lawn events at the Larz Anderson auto museum in Brookline, MA (Greater Boston Area). There's a different show every weekend from now until late October. Next weekend is member car day, which should be like cars and coffee on steroids.