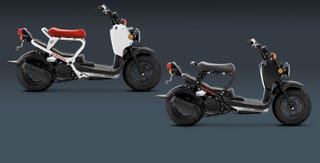 This one is probably better for LaneSplitter but I'm not authorized to post. My fiance and I have talked about getting a scooter for a while. I have always leaned toward the Honda Ruckus because I like the "stripped" look of it, and a friend of mine had one a few years back. It was like riding a really slow jet ski on land, but for some reason I couldn't wipe the smile off of my face while I was riding.
Unfortunately for me in looking for scooters I discovered the Honda Grom (which I now want more than anything). However the love of my life doesn't want to be bothered with a clutch or MC license so that's out for this year.
Any current or former owners have any words of wisdom/caution?