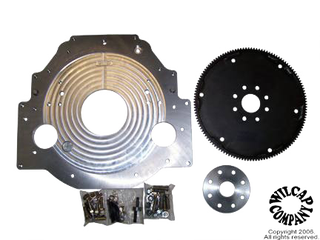 I found Wilcap makes an adapter for Chrysler flat 6s and Chevy trannys, says:

GM V8, 90 DEG AUTO PG, TH350, 400, 700R4, CHEVY OR BOP BOLT PATTERN to:

CHRYSLER/DODGE/PLYMOUTH FLATHEAD 6 CYL 201, 218, 230, 251, 265 CI (1933-1971) and I have a 230.

http://www.wilcap.com/wilcapstore.html# ... y=14420228

I don't have any experience with 4x4s, will this adapter work with the 4x4s, the transfer case is after this and not affected right? I see some super duty 4x4 700R4s at Monster Transmission and they have several options.

I have looked at everything I can find. There is also a T5 kit and they make tough T5 trannys too. But I will probably only go on dirt roads, nothing crazy so I thought an auto would help me enjoy myself and other people could drive as well. I have a 240Z that is fun to drive, but I think I get my fill for shifting with that, I will mostly take it out to surf spots and on dirt roads.


If I swapped my axle gearing later would it effect anything with the auto or would it just shift when it feels it needs to? I was trying to get a 5th gear/overdrive and then I thought maybe an auto would be nice...

Expert thoughts?
I want to sort this out before I take it to my friend at his shop so I don't sound like an idiot, I can sound like an idiot here first!