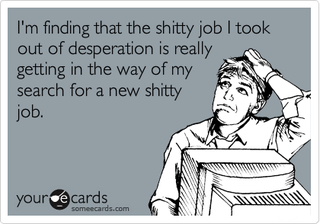 On Tuesday I had firm offer at X an hour with a start date of next month. The foreman said they could start the intake paperwork right then. But I countered asking for ONE DOLLAR more, and now I'm getting "we'll call you in a month or two when we're ready to hire." Fuck that.
The industry says they're hurting for technicians, and they can't get any new techs into the field. Well, when a luxury dealer part of a very successful group refuses to pay a qualified technician an extra dollar an hour, they have no room to bitch about not being able to find qualified technicians. I was willing to take a pay cut to go work for them, but apparently not a big enough one. I can't fucking stand this industry. Owners and managers are constantly bitching about not being able to find good technicians, or having to constantly shuffle through new guys. Apparently none of them know how to evaluate themselves because when you pay a shit wage you're going to get shit work.
While I'm pissed, I have to try to stay positive (not easy). Obviously the job wasn't meant to be. But I went through some crazy mental gymnastics to try to justify the job, and the pay cut I was willing to taken. And while I doubt they're sincere when they say they still want to hire me, but just when they're busier, I don't know that I will take it unless I'm unemployed. Hindsight is 20/20, and they're not willing to offer me a low wage now, and based on their pay scale, it would take me ten years to get a hourly wage commensurate with my skills.
So back to the job boards.
Edit: I forgot that the foreman said he wanted to hire me over another tech with Audi dealership experience. So I think the service manager told the foreman to hire him over me because they didn't want to pay me an extra dollar an hour. And that may also be why the foreman is saying he'll call me in a month or two when they're busier.