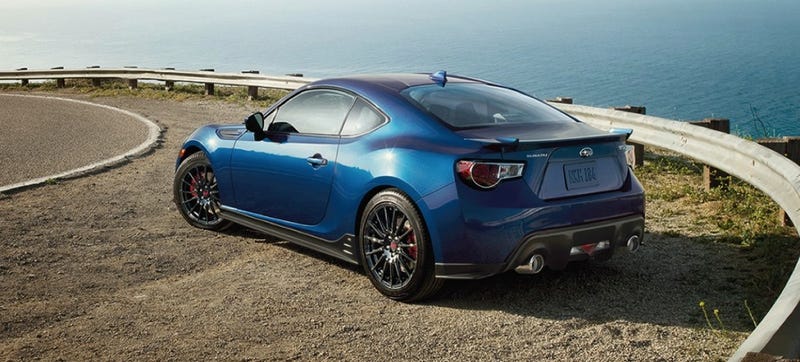 I'm sure that you to have clicked on an article recently for the, what feels like, 1000th time, only to see that the Toyota GT86/Subaru BRZ/Scion FR-S has once again been overlooked for a power increase. The latest in this long line of unethical teasing is the release of the Subaru BRZ STI. Those 3 letters at the end were enough to get my attention. To me they mean the pinnacle of any Subaru model, the best of everything that they could put on to that vehicle within the allotted price. I'm not talking a luxury badge here, I'm talking the badge that Subaru engineers proudly hold out to the masses and say "THIS is what we do!" Reserving that badge for only the best; better handling, better grip, and most importantly better power.
Let me set the record straight for just a second. I am completely in favor of the concept of this vehicle (BRZ, GT86, FR-S), I love affordable fun cars, especially the amount of fun that can be had for such a modest price. I can even see their side of the argument for not wanting to add any more ponies to the oomph factor, so as not to take away from the experience that is this "future classic" I get it, and a large part of me agrees with it. What does grind my gears about this particular piece of news is the fact that Subaru have chosen the STI badge to market only 2 of the 3 requirements that have long accompanied the name.
The upgrade itself seems like great value. A nice body kit, some revised suspension, some blue bits scattered throughout the interior for only a couple thousand more on the MSRP, cool! Why not throw a name like "Tsukuba" or "Fuji" edition, something that says better handling and better grip, possibly track focused, but not having everyone assume that there will be more power as well. Is this purely a marketing decision to boost the sales of one model by using the history of another?
Yes, yes it is, and it's becoming all to common across all manufactures. You can now find an AMG badge on a Mercedes-Benz C-Class 200 CDI BlueEFFICIENCY AMG Sport. That's a 2.1L Diesel 4 cylinder with 136bhp. Perhaps the BMW 318d M Sport with 143bhp is more deserving of an M badge? Lexus started out the right way with the IS F, giving them as much street cred as a Lexus can get, but then immediately started the dilution process with F Sport models. Audi seem to be the only one that have been able to protect themselves from backing in to this proverbial marketing corner. Long ago they made the distinction between their Halo model, the "RS" and the factory "Sports" line up, the "S"which has saved them from having to "dip into" their premium badge to help boost sales of lesser models.
So whats wrong with putting an STI or and AMG badge on a regular model? Well as far as sales go, I doubt there is any downside at all, for the moment. But where do they draw the line? It would appear that if there was a line it has been crossed already. The whole reason for these badges carrying so much pride is because they have always meant, quite simply, the best. Any car guy or girl will never have any problem (past, present, or future) being able to distinguish these special cars from the rest of the pack, but how much less special do these special cars become when their badge, a badge of honor if you will, is plastered all over every Tom, Dick and Harry's very un-performance like diesel 4 cylinder.
How much longer until the badge means nothing at all? What happens then? The top badge gets changed, that's what. A whole lineage is disrupted because the marketing department got slap happy with trying to sell people products that have nothing to do with what they are advertising. Which in turn will make it difficult to market the new performance badge as it doesn't come with generations of pedigree in an immediately recognizable package.
In the case of the BRZ boasting an STI badge, I don't think that Subaru are going about it in the ghastly manor that the Germans are, I mean, it is a step up from a base model and it does cover a lot of "performance enhancing" bases. I just wonder if we are witnessing the beginning of that dilution process within Subaru. Perhaps I'm missing the real point to their decision: that Subaru have exactly zero intentions of force feeding the little 2.0L four to gain those extra hp, in which case, they could well be holding the STI badge in the highest regard. Do they believe in the sanctity of their pinnacle badge?
By Lachlan Wornes @ Road Magazine