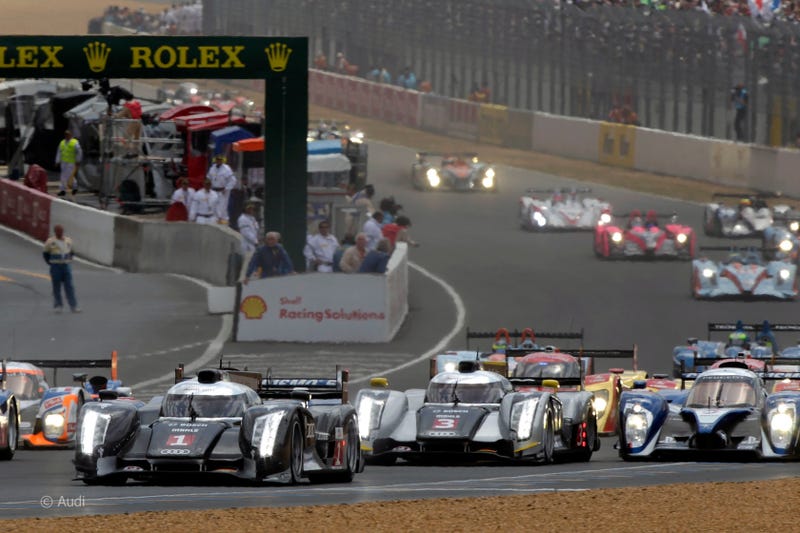 There have been many recent developments in the world of sports car racing over the past few months, with important announcements coming from a large number of major automakers. This leads me to believe that we are on the cusp of something great, and something historic. Sports car racing has always been defined by manufacturer involvement, and I believe that is beginning to return on a large scale.
Sports car racing is one of the oldest forms of racing, and it has a long and illustrious history of manufacturer involvement. The prestige of many manufacturers is tied to their efforts and accomplishments in sports car racing in the past, especially at Le Mans, with major marques such as Porsche, Ferrari, BMW, Mercedes, Aston Martin, Jaguar, Bentley, Renault, Toyota, Mazda, McLaren, Nissan, and Ford all having a storied and celebrated history in the sport. These manufacturer efforts defined the racing, the rivalries, and the sport.
Unfortunately, after 1999, manufacturer involvement became sparse. Mercedes pulled out of sports car racing indefinitely after an aerodynamic design flaw caused Peter Dumbreck's CLR to spectacularly become airborne during Le Mans in 1999 (Mark Webber's CLR also experienced this during warm-ups). Toyota stopped their GT-One program and transitioned into Formula 1. BMW also made a transition to Formula 1, but ran the BMW V12 LMR for one more year in the American Le Mans Series. BMW took the win at Charlotte and Silverstone, but the V12 LMR could not match the pace of the new Audi R8, and BMW retired their LMP effort before the last race of the season.
Audi prototypes went on to define sports car racing and Le Mans throughout the 2000's. There were short lived and unsuccessful prototype efforts from Chrysler, Cadillac, and Panoz, and none of these efforts could match the Audi R8's performance, and the car won at Le Mans five times in six years (The one year an R8 did not win was 2003. Audi provided an engine, staff, and drivers to Bentley, a fellow member of the Volkswagen Auto Group, and Bentley won with the Speed 8). After another successful year for the R8 in 2005, Audi introduced its successor, the R10 TDI, which in 2006 became the first diesel to win at Le Mans. The next year Peugeot returned to sports car racing with the 908 HDi FAP which took second place, finishing ten laps behind the winning Audi R10 TDI. This was the beginning of the one of the defining rivalries of the sport.
Peugeot was Audi's only main competitor between 2007 and 2011. In 2008, Peugeot qualified in the top three slots, ahead of Audi, and the French cars were able to maintain a lead in the first half of the race. The second half of the race was defined by two periods of rain, and the Audis proved better able to cope with the wet conditions, leading to another Audi win by 10 minutes. In 2009, Peugeot and Audi were joined by Aston Martin with their Lola-Aston Martin B09/60. Audi introduced their new R15 TDI, and Peugeot used the 908 HDi FAP, but with a brand new energy recovery system. Peugeot won, Audi took third, and an Aston Martin finished 4th. The next year, Audi won with the updated R15 TDI plus, and all four Peugeots failed to finish the race, three of which experienced engine failure. Aston Martin entered two cars, of which only one finished the race, crossing the finish line 32 laps behind the leader.
In 2011, the ACO changed LMP1 rules, rendering all previous cars obsolete. Audi responded with the R18 TDI, Peugeot responded with the 908, and Aston Martin with the AMR-One. Two of the Audis crashed spectacularly during the race, and both Aston Martins had retired by the fourth lap. The lone remaining Audi won the race by 13.8 seconds. After that year, Peugeot retired from sports car racing, citing low consumer sales, and Aston Martin dropped their LMP program to focus on GTE. In 2012, Toyota picked up where Peugeot had left off, entering two TS030 hybrids to take on Audi's new R18 e-tron quattro hybrid. Both Toyotas failed to finish the race, and Audi took another victory. However, after Le Mans, Toyota managed to win three out of the five races in the World Endurance Championship. In 2013 Toyota returned to challenge Audi. At Le Mans, Audi took first, third, and fifth, and Toyota took second and fourth. In the World Endurance Championship, Toyota put pressure on Audi, even if Audi ended up winning the championship.
This brings us to the present and the future. Audi is facing competition from Toyota, as they have been able to make serious strides in their LMP1 development, and is expected to be able to a major competitor to Audi in 2014. Furthermore, Audi's champion, Allan McNish, just announced his retirement, and Audi will need to replace him. And then there is the third marque that has thrown its hat into the LMP1 ring: Porsche.
Porsche is returning in 2014 with the 919, a hybrid utilizing a 4 cylinder turbocharged engine. This car will be Porsche's first prototype since 2010's RS Spyder LMP2 car. There will likely be some kinks to work out, as this being Porsche's first year of re-entry in Le Mans, but I expect them to be fully competitive with Audi and Toyota. Having three factory based racing teams on equal ground in the top tier of sports car racing is a very exciting thing to see in this racing series.
Looking forward, 2015 is likely to have an even more diverse field of manufacturers. Nissan has stated that they are aiming to build an LMP1 car that is "radically different" to the prototypes currently being built (It will also not be based off of their experimental ZEOD RC that will be running in the spot formerly occupied by the DeltaWing). Also, due to a budget cap that will be introduced in Formula 1 in 2015, many manufacturer teams will have room in their budgets for new endeavors. Moreover, the new V6 turbocharged engines in F1 should be legal for use in LMP1 with few modifications, reducing the costs of building an LMP program from the ground up. Because of this, Renault is said to be looking into an LMP1 car for 2015. But the most speculation of Le Mans aspirations revolves around Ferrari.
Luca di Montezemolo, the president of the company, has openly stated that Ferrari is considering a return to Le Mans. "We are working on some technology innovation that we are testing at the moment, so this is the first time in which, theoretically, there could be the possibility of thinking about Le Mans…There have been a few weeks where I have begun to think of the possibility, if the rules go in the right direction that I expect, maybe to do sooner or later Le Mans with a Ferrari car to win,"he revealed to Autosport. Di Montezemolo also noted that the 2015 F1 budget cap would allow Ferrari to have the budget necessary to field an LMP1 team as well, saying that it would be a good place to send people who would no longer have a place with the F1 team under budget restrictions. Rumors have even come out regarding what driver line up Ferrari would use for a Le Mans bid. However, this may not come until 2016.
If Ferrari does return in 2015 or 2016, it would be momentous. It would mark the first Ferrari factory LMP program since 1973. It also means that the field could consist of upwards of five major factory teams, all in the top field. The last time there were that many manufacturers competing for victory at Le Mans was in 1999, and Mercedes Benz and Toyota were competing in LMGTPs, with the other four marques competing in LMPs.
Stateside, massive changes are happening as well. The Tudor United SportsCar Championship will be kicking off its inaugural year with around 60 entrants. As I have mentioned before, this marks a turning point for sports car racing in America. No longer will sports car fans be torn between two very similar racing series, and the field is huge. There is no longer a category for LMP1 cars, but there is plenty of interesting developments in the Prototype class. Due to the high costs of LMP2 cars over Daytona Prototypes, many thought that the field would be dominated by DPs. But that has turned out not to be the case, with an equal number of each competing in the top class.
Furthermore, Mazda is backing a factory LMP2 team that will be showcasing the Mazda SKYACTIV-Diesel engine in a Lola chassis, with hopes of using this effort as a launching pad for a future LMP1 car. Ford is also stepping back into endurance racing, providing a 3.5 liter EcoBoost V6 engine for Chip Ganassi Racing's Daytona Prototype. Ford appears to be very interested in using racing to market their EcoBoost line of engines as not only efficient, but powerful as well. This is pure speculation, but I could see this line of thinking leading to future racing endeavors in the European market. At any rate, 2014 will be a red-letter year for sports car racing in America as well.
So why is all of this important?
Well, it's because sports car racing is responsible for a huge amount of technological development that trickles down to road cars. This has lead to major developments in aerodynamics, engines, drive trains, transmissions, and so on. The emphasis on endurance puts a strong importance on developing reliable, fuel efficient, and powerful cars, which has tangible, real world implications. Furthermore, the open-ended nature of the rules fosters creativity in design, leading to unique solutions across manufacturers (Formula 1 also encourages creativity in design, but that's oftentimes viewed as "cheating" and "bending the rules"). Therefore, having upwards of five auto manufacturers present in prototype racing, all searching for different solutions to the same problem, will lead to some truly exciting developments in future cars in general.
Not to mention some truly exciting racing.
For more updates about racing and other automotive thoughts, feel free to follow me on the Twitter at @willkinton247. If you want me to look into a particular series or topic, or have any feedback, let me know!