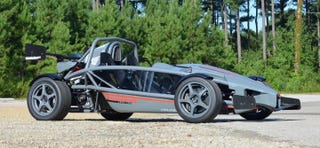 Sometime ago, at the Honda Performance Development, Inc. Headquarters in Santa Clarita, California, there was a meeting. In that meeting someone stood up and said "The TMI AutoTech Ariel Atom needs more power, it's just too slow. And it needs to stop better, too! And we should make our own version that addresses those shortcomings!"
What followed next was either eerie silence or loud applause, I am not sure which. The end result of that meeting, which may or may not have taken place, is a limited edition (ten vehicles) of the American Ariel Atom, duly named, Ariel Atom Honda Racing Edition.
The vehicle is essentially the Ariel Atom 3 with the best of the best performance options, special paint/graphics package, big 300mm brakes with 4-piston calipers on all four corners, recalibrated suspension, and a hand-built 2.4-liter K-series from the Grand-Am and World Challenge Honda Civic Si racecars. It produces 275hp and 225ft/lbs. of torque, an improvement of 45hp and 45ft/lbs over the conventional Ariel Atom. Other items:
Digital dash as used on Race Spec Atoms
Honda Racing/HPD brakes 4piston calipers and 300mm floating discs
JRI adjustable dampers
Aero chromoly wishbones
Anatomic steering wheel
Aero kit: front & rear wings
Magnesium wheels
Quick ratio steering rack
6-point harnesses
Racing pedal set
Special color & graphics
Given the conventional 1300-pound Ariel Atom 3's performance, 0-60mph in 2.9 seconds and 0-100-0mph in less than 11 seconds, this must be better, right?
Unfortunately with all those goodies come with a price, and in case of the Ariel Atom Honda Racing Edition that price is $99,750. This may seem like a lot, what with the Ariel Atom 3 starting at $56,480, but once you check start checking off option boxes, you'll realize that a similarly equipped Ariel Atom 3 will not be any cheaper, and it still won't include the race engine.
The really big new here is not the limited edition car, however, but rather a motorsport division of a major automotive manufacturer working closely with a company such as TMI AutoTech. Such relationship can have major benefits for TMI's research and development, and production ability. For customers it means a better product and a significant piece of mind, which in the world full of small-volume automakers should be meaningful.
Go to Hooniverse to see the Ariel Atom Honda Racing Edition flying around VIR's South Course.