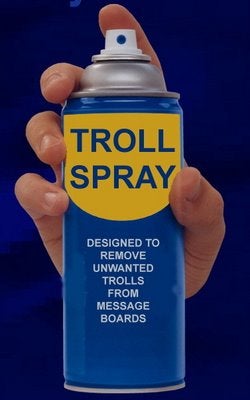 When you find a thread starting to go south at the hands of a troll, there is only one defense, and that is to "Three's Company" them. Whatever they say, just keep responding with trivia about the hit TV show Three's Company. Here are some handy facts to place in your arsenal:
John was the only actor to make it all the way from the first pilot to the final episode and the only one to appear in every Three's Company episode.
Terri was the only roommate who never did an episode with the Ropers, while all five roommates starred with Furley.
Larry was the only one who guest starred on both "Three's a Crowd" and "The Ropers."
Both Jenilee Harrison and Suzanne Somers would later work shows with Patrick Duffy ("Dallas" and "Step By Step").
Percilla Barnes, who played Terri, was one of the people who the year before auditioned for the Cindy Snow character Jenilee Harrison played.
Norman Fell would reunite with John Ritter in a guest appearance on Hooperman and Richard Kline and Don Knotts would guest star on Suzanne's "Step By Step."
Of the five roommates, the only parent we never saw was Cindy's mother.
There was an episode where Janet was helping Furley's nephew where a reference to the film "The Graduate" was made where Jack called Janet Mrs. Robinson. That movie featured Norman Fell.
Audra Lindley, Ann Wedgeworth, and Jordan Charney were all on the soap opera "Another World" at the same time. Audra starred on the show as Liz Matthews from 1964-1969, Ann Wedgeworth played Lahoma Vane Lucas from 1967-1970, and Jordan played Sam Lucas from 1967-1970 and again in 1974. In fact, Lahoma and Sam were lovers on the show, and, due to the show's popularity, they were spun-off onto "Somerset," on which both Jordan and Ann starred from 1970-1973.
Around 1988, Suzanne Somers, Jenilee Harrison, and Don Knotts all appeared in an episode of "She's the Sheriff." The episode set up the premise for a possible spin-off named "Mr. Moe's."
Priscilla Barnes was originally signed to play the lead in "She's the Sheriff." However, she quit after a contract dispute. Suzanne Somers was then contacted to take over the part.