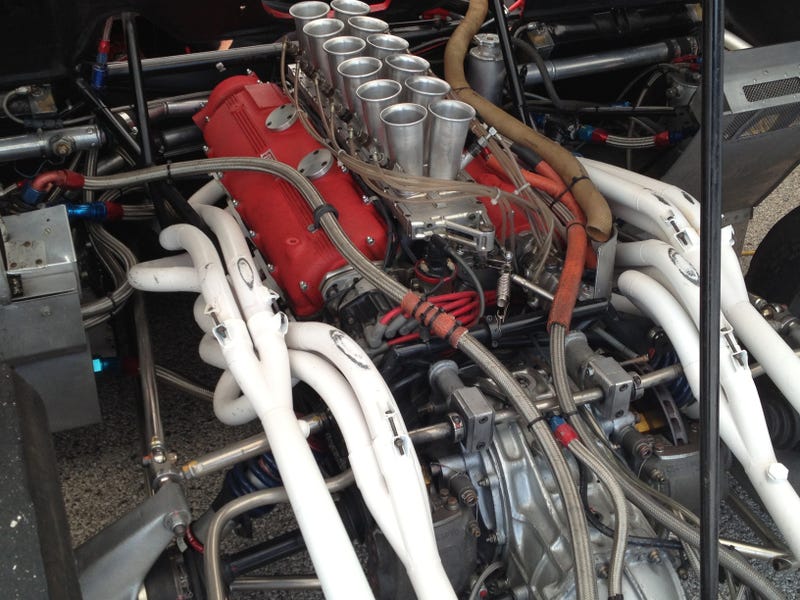 Armed with my iPhone, and with no photographing skills. I take as many pictures as I deem necessary! Here are a lot of them! I even used the phones auto enhance sometimes. I know I am going all out!
Now, living so close to Indy, I could have gone to see the Indy GP and the Tudor race, but plans fell through(aka I had to study for finals, and I had work). Luckily I had the opportunity to go watch the SVRA vintage race. While that was bigger(number of cars), The Hawk was better in every single way. The cars were EPIC! The racing was better. Best of all it takes place at the best track in America, Road America!
Anyway, on to the cars. This is a fairly new Trans Am Mustang. It has mufflers sadly :( Oh and it is carbbed to my surprise.
This is a brand new Ford Mustang. I don't think they are on sale just yet right?
A 935!!! It is actually a very beautiful car, I can't really explain it, it just is.
The small one is the wastegate.
They were celebrating 50 or so years of Cheetah race cars. So you got to see a lot of them.
Where else can you get epic pictures like this!
Iso mofo'ing Grifo
Sorry that it is dark, but there are 3 of these right next to each other EPIC!
Turbo Corvair. The BBS wheels look really good on this.
Mclaren eh? Maybe it is a Ford ;)
The old meets the new!
The best part of the race is how close you can get to the cars. You can basically touch them.
Lots of DFV V8s. Oh man do they sound glorious.
The famous Canadian driver's Ferrari! Sadly it didn't race.
Looks like meat is back on the menu boys!
A Flat 8! More people need to make these sort of engines, they sound amazing!
12 into 4 exhaust. . . 4 holes.
V8 and Flat 8, side by side.
I like how close the fan is to the head rest. Make sure your hair isn't too long!
Sunoco special!!
Cheveron B16 powered by a Cosworth Inline 4!
An even bigger badder 935.
This car is way too quiet!
1, 2, 3. 3 four rotor Mazdas. All in one spot.
Oh so that's where the oil cooler is.
RX-7 GTO! Sadly, something happened to it later that day.
RACING FORD GTS!!!
Back side of the M6B McBeagle. . . I think.
This car didn't race sadly. I was hoping it would.
As you can see fans and mechanics all in one spot.
Bro, got enough downforce?
How about now?
There were so many epic cars it was hard to get a picture of them all one by one.
Epic collection!
I guess people trust one another with their priceless cars.
Morgan was here :D
Is that? IT IS!!!
Something went wrong with the Rx-7. It was awesome while it lasted!
Wait, what is that in the background?
I wanted to get a closer picture, but the Can-am cars were about to go racing. chioces were made.
First one I have seen ever! It is immensely good looking.
And a 650S there for you to see!
There was a Lexus IS300, and it was awesome! It was loud and proud!
Widebody NSX. It was really loud. He gave it a few revs for someone, and it sounded even better!
See 308s can look really good! You just have to do a few mods, First get rid of the hideous wheel the that come with it. These look much better.
Not onebut two M1s!
I talked to the mechanic of this car. He was very nice. Apparently it is a 494Ci V8 with 850hp!
Sunoco Special! Again!
Here is the Rx-792! It has a hot exhaust problem, it is quite the flamethrower.
787B engine bay, not to much too see.
Supercharged Studebaker!
Newest Gallardo!
This was picture perfect moment. If only I had a better camera. . .
That's all folks! There was a lot of amazing cars there, but I sadly couldn't take pictures of all of them.