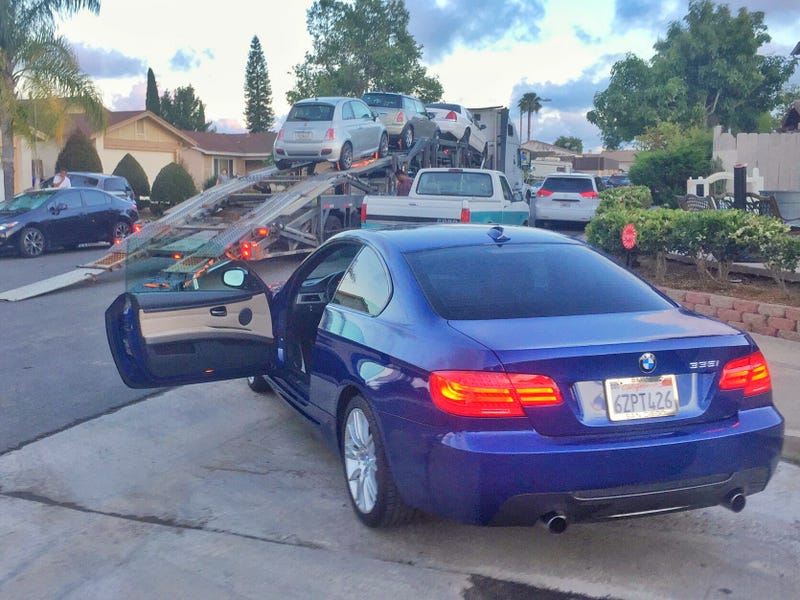 The seller sent me these pics Saturday night as my car was being loaded on the transporter. FedEx brought me the signed title this morning, and the car is scheduled to arrive in Madison on Thursday! I'm really happy I found a Le Mans Blue one. Maybe I'll keep the California tags on it for a while just for fun.
Also, I learned today as I was playing around cropping this picture of the silly ///M shift knob, that in addition to the park distance control button on the left, my car also has the power rear sunshade, which I probably won't need with the dark tint on the back windows, and hill descent control. Because just like a Range Rover, I have hill descent control.
AND I LOOKED UP THE BUILD SHEET AND I HAVE ACTIVE CRUISE CONTROL WOOHOO!!!!!
My fiancee's Impreza has active cruise control, which wasn't really even a feature we were looking for, we just wanted one with leather and a sunroof and hers had those plus nav and EyeSight (active cruise, pre-collision braking, etc). I've used active cruise a few times since we got her car and I kinda love it. I didn't really expect to get it on a used car but damn yo, this car has my perfect color combo, stick shift, M Sport, and pretty much every possible option I'd want if I were ordering it myself.
Come on Thursday get here soon!