So i didnt make a proper introduction thread when i was granted authorship.
Here goes.
Hi.
Just kidding, my name is Cody and I am currently a graduate student majoring in Deaf Education with a bachelor of sciences in Integrated Science Education. I am profoundly Deaf and use American Sign Language. Cool, huh?
Im a car guy big-time like everyone else here. I daily drive a 2011 Saab 9-5. My last car was a tuned 2007 Saab 9-3 Aero convertible that made 330 hp and 430 tq (up from 250hp and 258 tq). My last last car was a 2005 Saab 9-3 that was tuned to 260 hp and 280 tq (up from 210 hp and 220 tq)
So yeah, Im a diehard Saab fanboy. I have a tattoo of the chemical symbol for lead on my right foot (you can figure out the meaning).
Ive gotten 5 speeding tickets all for 15+ over in three different states.
Picture of my baby
The 2007 Saab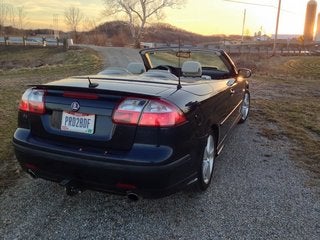 The 2005 Saab
It was totaled by a Mustang traveling at 50 mph at time of impact