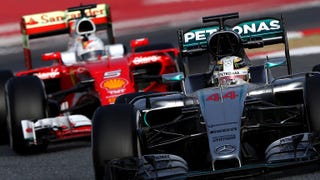 *I swear this isn't paid advertising

Yes, I know I just lamented on the my cancelation of DirecTv (fuck you, AT&T*), but I needed a trigger. Hey, I still needed my racing and Adult Swim.

I didn't want to turn to "alternative means" just to watch it all the time. So when I found out about Playstation Vue, I had to give it a shot.
AND I AM LOVING IT!!!
I did a 1 week free trial 3 weeks ago and I don't regret the switch. Unfortunately, package prices vary anywhere from $5-$30 depending on the market that you live in.
But for half of what I was paying DirecTV (SERIOUSLY, FUCK YOU AT&T), I get FS1 & 2 (for WEC), NBCSN (for F1), and BeIN Sports.
YES, BeIN SPORTS!!! so I can watch all the motorcycle racing (and La Liga) I can cram to my heart's desire. I don't have to pay extra for it — it's included in their Elite package (I pay $45/mo, so YMMV).

Plus a list of real channels that normal folks would watch**. And no bloat to fill your subscribed package (no QVC, HSN, etc., no multiple religious channels, no PPV movie channels, no digital music channels, no paying for extra crap channels). Plus cloud based DVR and no contract.

Anyway, I'm sorry to sound like paid advertising but I really like this service. So if you got the means (a good internet connection without a data cap) and the equipment (I'm using an Amazon Fire TV stick, check their FAQ for alternatives), give the free trial a shot.
*I hate AT&T so much that my company paid cellphone is on Verizon instead of AT&T even though they pay either carrier.
**Got to be able to watch Archer on FX