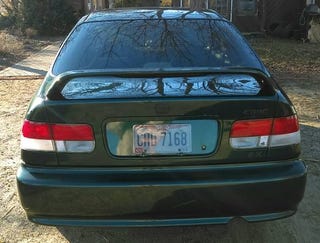 It runs and drives perfectly with no mechanical issues at all. ... Only thing wrong with the car is that the tailpipe broke off a few months back. ... But whole new muffler online for 50 bucks so no biggie.

I'm asking 3,000 or best offer. kbb value is 2,120 I paid 250 for tint, 300 for rotors calipers and drums, plus tires and brake pads.
Also, muffler for $50 is bullshit. The muffler I replaced on my 98 EX Coupe was $150 plus new hardware.