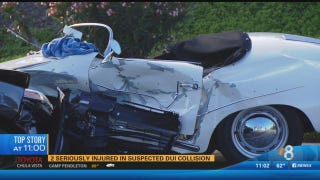 Everything about this story sucks. A couple in a 1950's Porsche Speedster (I can't identify the exact year) were enjoying a sunny drive in San Diego when they were crashed into by a woman who was driving her Toyota Corolla under the influence of marijuana. The car jumped the median prior to colliding with the Porsche. The couple is in serious condition, and the woman has been released from the hospital and arrested. Source

Yuck.
*Update 1: McMike commented that this is the 1956 Porsche 356A Speedster that Petrolicious featured in a video in 2014 (see below). The owner's name is Jon Warshawsky, a Director at Deloitte. The two in the Speedster at the time of the accident were Jon and his girlfriend.
**Update 2: McMike provided more information, which he found on FerrariChat.com:
The DUI suspect has 3 prior DUI convictions, the 2 passengers in the Porsche are still on Life support, and considered to be Brain Dead.