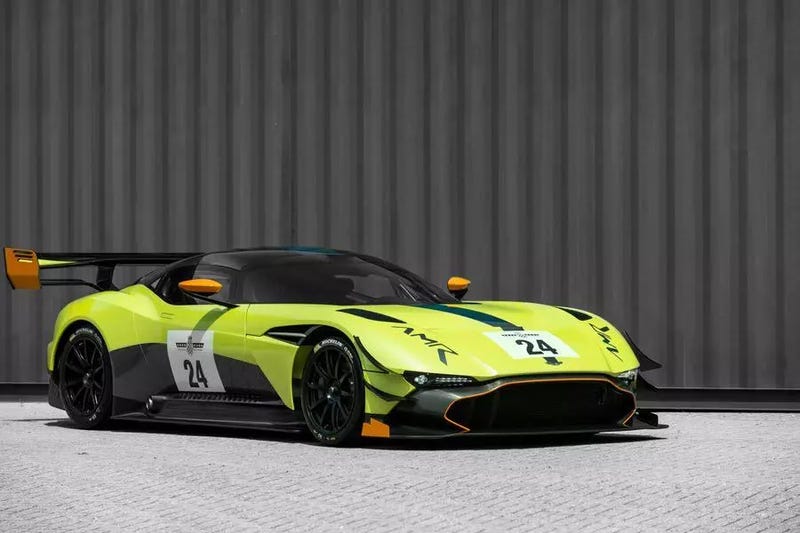 You build just 24 track-only cars that customers can keep at home but they still have to call the brand for approval before tracking the car, and now you're telling me there is an aero track-pack for a legit track car that can only be tracked? Is the Vulcan just running standard production car protocol here? Are these NOT soldout and are just going through model updates now?
This is a car where the buyers have to go through a set of progressive courses where they graduate up to a Vantage GT4 racecar BEFORE they can drive their Vulcan. Now youre telling me Aston Martin's brand new performance arm just 1LE'd the hypercar version of the Viper ACR. Are buyers not making it through the courses and having to decline taking on one of the 24 cars forcing Aston to keep the car enticing?
I remember this car essentially making 800 hp and at least a dozen of the 24 were built between when it started in 2015 though midway 2016, but I guess at some point it was boosted to 820 hp. Now the Vulcan has what we would identify as the "midlife refresh through a higher performance variant" procedure as if this is just an everyday performance car.
What I'm not understanding is why Aston Martin is presenting what is a higher performance spec with a new weight, new weight distribution, new gear ratios, revised and re-engineered exterior and mechanical upgrades, and an over 25% aero increase on a car which produced more downforce than a Vantage GTE racecar to begin with as if the 24 cars arent already built and sold out. I'm being wobbled and I don't care for it!
Is Aston Martin upgrading the existing cars for customers? Why would you bother creating, offering, and advertising it if it's already sold? Im so confused...will I see these on Auto Trader or Carmax lots and think, "Nooo, the 2016 MY is down 20 hp compared to the 2017s...but I would be soooo embarrassed if someone in a 2018 Vulcan AMR pulled up next to me at the circuit!! ...Wait, I need to go through a driving academy for this thing?!! Pssh, pass! I'm not buying a track-only hypercar to be told how to drive, Honeybear. I'm buying a track-only hypercar so that I can take Instagram pictures of it at my house and rub it in the face of all the Ferrari XX and McLaren GTR owners!!"
Love you, Aston...but sometimes you're a bit too much for even me.