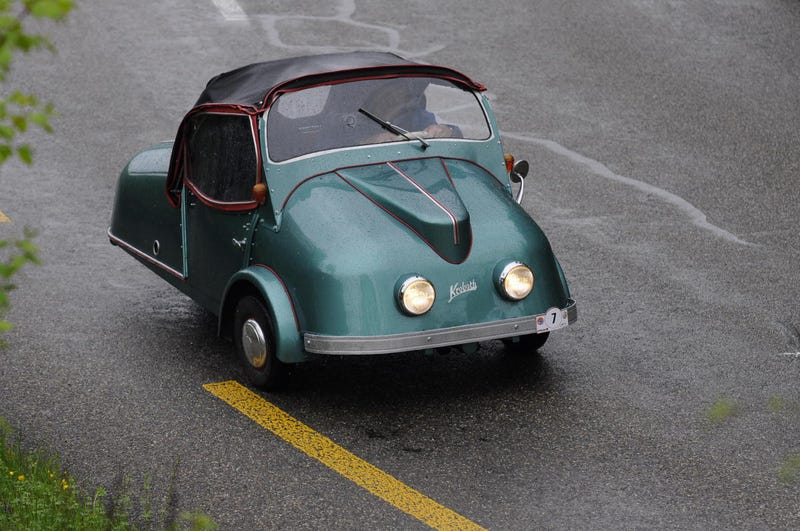 The beginning of June in western Europe means "the return of the westerlies," or the European Monsoon season when westerly winds, which take a break during spring, come back bringing with them rain and cooler weather. It's a cycle that repeats 7 out of every 10 years and folks are generally prepared for it. The first few years after WWII, however, saw something of a reprieve which serendipitously coincided with a motorcycle boom brought on by the war's mass destruction. No one could afford a car, so most people rode bikes. Which is great and all when the sun is out. Unfortunately, June 1953 was pretty much one long deluge especially in West Germany.
And, so, people stopped buying motorcycles. Scooters, too. The Vespa had taken Europe by storm for its price, ease of use, and style. Many motorcycle manufacturers like Zündapp and Triumph began offering what were basically Vespa knock-offs with a little German panache.
But, now people wanted something with a roof. Even though the economy in Western Europe was improving rapidly in the 50's, most people still couldn't afford a new car. Especially in Germany which was basically rebuilding its infrastructure from scratch. So, what were these poor, wet Germans to do? They needed a covered scooter. Fortunately, that's exactly what Willy Messerschmitt had started building in February with the help of designer Fritz Fend. The Messerschmitt Kabinenroller began selling like strudel and Willy couldn't keep up with demand. So, there was a hole in the market. But, designing, developing and mass producing a car, even a tiny one, takes a long time. BMW's Isetta, the Goggomobil, and others were all at least two years away from going on sale. Someone needed to capitalize on all that rain ASAP. One person who tried to was Gustav Kroboth.
Kroboth grew up in the Sudetenland and had developed a love for all things mechanical as a child. When he turned 18, he constructed his own motorcycle engine, and a few years later began building by hand a BMW Dixi copy.
It had a novel swing axle set-up and was powered by a 500cc motor. The car was polished enough to attract an investor and Kroboth ended up building almost 150 of them before the money ran out.
After the war, all Germans were expelled from Sudetenland, so Gustav settled in Bavaria where he found himself with nothing but his tinkering skills which he put to work to try and eke out a living. He would scavenge through wreckage to make his own tools, melting aluminum bits of destroyed planes on his stove top and cutting up tires for rubber. He soon started selling handmade wooden toys and then noticed a need for poppy grinders. By 1950 he had a small, but thriving poppy mill business built out of old war detritus.
Before long, he had saved up enough money to get back to doing what he loved; building things with wheels and an engine. He read an article about the Vespa which was about to be introduced to Germany which gave him an idea. He recognized the need for something economical like a scooter, but knew they couldn't perform like a motorcycle since they had all that weight at the back. He didn't think they would be successful with people used to riding a motorcycle. So, he built a modified motorcycle frame with a Fitchel & Sachs 150cc two-stroke engine placed under the rider, and gave it unique leaf spring suspension. He then wrapped it in a scooter like sheet metal disguise. What came out was positively badass, and is perfectly Teutonic looking.
I love the steampunk vibe of those slats in the front cowling. It took Gustav just four months to design and build the prototype. By mid 1951 he had sunk the poppy mill profits into a small production line to manufacture it. He made a few refinements and was pumping them out by the fall of that year.
They could be had with a choice of three motors, 98cc, 147cc, and 175cc's with the biggest one only available with a sidecar.
With its center mounted motor and larger tires, it did ride more like a motorcycle than a motor scooter. And, it was built like a tank. It was also the first scooter designed and manufactured in Germany.
So, it carved out a small niche in the German motor industry, and Gustav sold enough to keep building them until '55. But, 1953 was rough, so in the spring of 1954, Kroboth set about designing something with a roof.
He started with a simple, but strong central tube frame chassis and then used as many off the shelf parts to finish it off as possible. Front suspension was two transverse leaf springs, with one longitudinal one for the single rear wheel.
Like his scooter, it was mid-engined with a 9 horsepower 175cc Sachs motor mounted behind the driver and in front of the rear wheel. This was the same engine that was then powering the Messerschmitt which meant it was easy to get serviced and find parts for. He used a steering box from ZF, ATE mechanical drum brakes, and a VW windshield. Within 3 weeks, he had a bare prototype that was ready for testing. He knew he had to distinguish his covered scooter from the Messerschmitt, so he tried to make it as car-like as possible. It sat two side by side, and had a proper steering wheel. One thing Gustav was particularly proud of was the column mounted 4-speed shifter. Column shift was all the rage, so this was like being in a full sized car. There was no reverse, but still. Reverse is for wimps too weak to pick their car up and spin it around anyway.
Kroboth tested it all over the Bavarian countryside for a month. The lightweight chassis handled to his liking and held up well. Top speed was 46, but it apparently felt quick as I imagine a bare chassis would even with 9 hp.
The body wasn't so much designed as that's how it turned out. Gustav and his crack team of builders constructed a basic frame around the engine and passenger compartment and then, like with the scooter, wrapped everything in as little sheet metal as possible. Again, there's something medieval about it. It's like a little chariot for an armored knight. Gustav added some flair with that proboscis over the front that serves no purpose but to break up a smooth curve. Capitalizing on the previous summer's bad weather, he called it the Allwetterroller or, "All-weather Scooter." Although the all-weather part was just a pretty flimsy ragtop. And side windows cost you extra.
It made its debut, believe it or not, at a hillclimb in Austria where it won its class. Kroboth was certain he had a winner, but the press mocked the little car calling it the product of the "tinkering of a refugee operation." Undeterred, Gustav set about making preparations for production. Workers at Kroboth rigorously tested it, driving it over 20,000 kilometers and then taking it apart to check for wear and tear. The handling that had satisfied Gustav when it was a chassis proved pretty squirrely at higher speeds, apparently the car like to hop around, but with the 46 mph top speed I guess they decided this wouldn't be too much of a problem and only adjusted the gear ratios a bit.
When Gustav learned the machinery necessary to build the car was going to cost 300,000 Marks, he decided to start making them by hand while he looked for a loan, or investor. He even found a Munich motorcycle dealer to begin selling the Allwetterroller. It was advertised as having all the convenience of a car for the cost of a motorcycle. With a jab at Messerschmitt, sales literature cheekily stated, "Safe and elegant car steering lovely vehicle which does not make you the laughing stock of the other, but everywhere finds admirers."
Unfortunately, not among those admirers were any banks, or folks with deep pockets willing to finance a tiny, underpowered roadster. Kroboth took the prototype to motorcycle shows, and went in search of a licensee. He nearly made a deal with Maico before they bought the Champion microcar. By this time, motorcycle manufacturers like Rabeneick, and Victoria were going bankrupt as people were buying more and more cars. And, a three-wheeler wasn't seen as a car.
Gustav finally did secure a license with a Dutch bicycle company, Fransen and Sohnen to build the Allwetterroller in The Netherlands. But, when a shipment of a thousand bicycles to India went unpaid, Fransen had to rescind their offer or go bankrupt, and the little Kroboth was forever orphaned. Over the spring and summer of 1955 Gustav and his little factory built 55 Allwetterrollers with the remaining supplies before the Kroboth works were shut down. Gustav didn't abandon his love of cars, though. He went on to a long career as a driving instructor. Apparently all 55 Allwetterrollers sold, but only 3 remain. One was found in the late 80's still in service puttering around Poland. It was later restored by the Bruce Weiner Microcar Museum before selling at auction for $80,000 in 2013. That's probably more money than Gustav spent on the entire run of them.