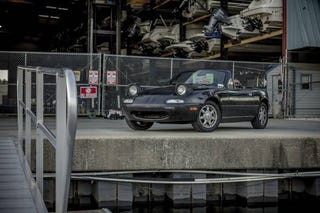 Posting text in case ad gets deleted.
"Tired of your boring, everyday commute? Then buy this bitchin' Heavy Metal Miata! It's so Metal it runs on PBR. Turn that boring commute into a slideways funfest and make every day the next gymkhana video. Why? Because Miata! This Miata is so bitchin', it's number one, it's the best, it's the best car, it's number one, it's the best!

Bitches love this car! Don't believe me? Here are some actual quotes from some real bitches:

"It's so cute!" -Random Girl
"You bought a Miata?" - My Mom
"That's it?" - My Sister

Those bitches loved it! Power steering is deleted. Get ready to build those forearm muscles, cause you're gonna need them to fight off all the bitches. Power steering delete means it's hella-driftcore, so you and all your gutterpunk drifter friends can slide with more steering precision. A/C is gone too but who needs that when you have the top down? You're always gonna have the top down, why? Because it doesn't have a rear window anyways, and cause the wind in your hair makes you that much cooler. It has aftermarket audio, a sony head unit and some sony speakers so you can blare all the Slayer albums you want while you're drifting circles around all those bitches.

Misc. Metal Bullshit:
-Fresh Oil (harvested from the beards of Metalheads)
-E3 Spark Plugs, carved from the obsidian stones of hell!
-Fresh belts, made from pure elastic-Swedish-Metal-band-hair
-Runs like a bitchin' miata should, always
-Bitchin' radass bozo exhaust because Fuck yeah!
-Carpet delete, cause that shit was rank, now it's like a lotus elise!

3000 OBO, or Trade (ALL offers are welcome so feel free to hit me up)
904-3zero7-7369 , text any time, call before 9pm. I respond to text fastest and all the time. Ask any questions you have I'll answer them."