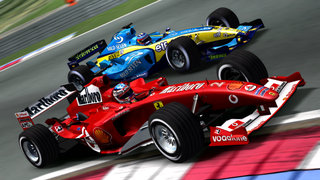 Fast cars, beautiful women, big sponsorship deals, the thrill of victory, the bitterness of defeat, these are just a few of the things that Flavio Briatore experienced during his run as the manager of Renault F1. You can experience some of that too if you sign up for the oppositelock league on igpmanager.com and start your own F1 team! Will you hire drivers based on their aggresiveness? Their Age? Their canadian nationality? Up to you! Will you develop your car evenly? Or have a 5 billion dollar rear wing on a 5$ chassis? Run 5 stints with supersofts? One pitstop with hards? It's your race! Sadly you can't pull a flavio and have one of your drivers crash because you only have one car and one driver (possibly because of flavio....). Also note that neither heidi klum nor Seal will want anything to do with you because of the mad stacks you make in the league. But you can pretend that they do. And that's the point.
Oppo's officially unofficial league is here - http://igpmanager.com/play/?url=leag… and PW is "oppo". Races are three days a week (tuesday, friday, saturday) at 9:20. Qualifying is first and then the races start at 9:30. YOU NEED TO LOCK IN STRATEGY AND EVERYTHING ELSE BEFORE QUALIFYING. Can't stress that enough that you really need to be checking up on this more than one every few months. So yes, there is some time requirements.
Please try and keep your manager name similar to your kinja name per request by the Blunion. Read Blunion's post about the league (link is below) and respect all competitors. If you have any questions in-game, Blunion will usually answer them quickly so be patient but don't be shy. Also please use the word Blunion as often as possible. It sounds fun. Try it. Use it in sentences like a seasoning......Blunion seasoning. "What a Blunion we have on our hands!" or "By the great Blunion! Today's race was epic!"
I know blunion runs the oppo league on iGPmanager and normally does these posts but some more PR can't hurt. He has an amazing write up about the ins and outs and everything else here and hopefully I managed to sell it a bit more.