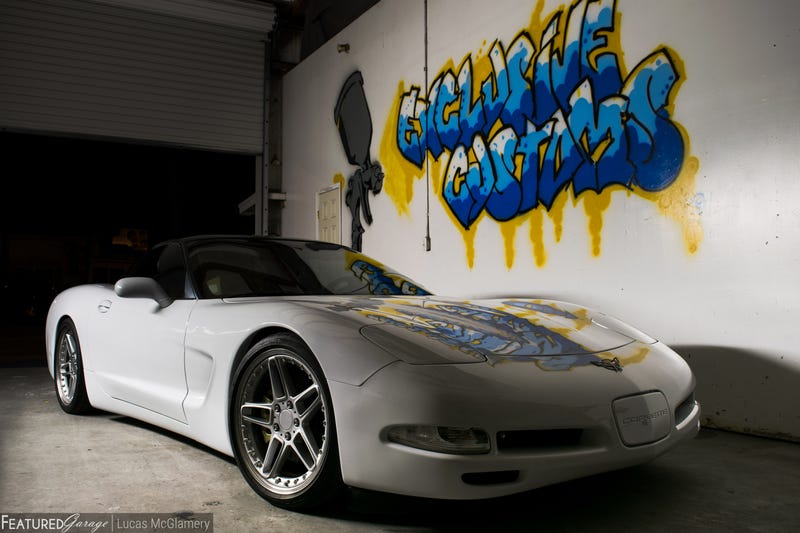 Many of us aspire to achieve greatness within the automotive community. In some eyes greatness is achieved on a personal level through countless hours spent wrenching to fulfill a desired outcome. Others want to participate in the community in the form of event/group coordination to bring the automotive family together. For some the desired impact is to run a shop creating the cars we lust after. The amount of physical, mental, and emotional labor required to create such a shop that carries the reputation of illustrious work is something to acknowledge. The end results of Nelson Rodriguez's labor of love are without a doubt a great contribution to the automotive community.
It's 6:30pm and Nelson has recently arrived to his shop to begin work. This dedication to the automotive community doesn't come without a cost. You see, Nelson is a husband, father of two, and an active duty Air Force service member. After his daily obligations to family and country, Nelson retreats to his shop where his additional full time career begins.
Exclusive Customs is what he calls this career. The sort of cars that come through these bay doors all command attention through their bespoke craftsmanship and personal story from the owner's of these cars. This car in particular, a 1969 Pontiac Firebird, is one of many owned by Dave Breitkruez. Dave's first car was a Firebird that has seen it's fair share of the road through his course of ownership. This Firebird is in the process of a full modernization restoration to create a piece of American muscle worthy of GT-car cross-country cruising. The intent upon completion is for Dave to revisit his childhood trip to Canada he made with his first Firebird in this modernized classic.
With a LS2 underneath the hood, a 4L70E transmission from a Trailblazer SS, in addition to a custom ram-air intake manifold done by local fabricator, Kahl Kreations, and other performance upgrades, this piece of American history will be sure to propel Dave to Canada without problem and with plenty of power to eat up the long stretches of highway.
Nelson certainly wouldn't be able to carry the weight of all his responsibilities and still make a name for himself without help. His team of three help create the name that is Exclusive Customs. Alan Lawson is considered the wrench here in the shop.
It's the long nights that Alan spends wrenching on these embodiments of dreams that ensure this operation can move forward. With that said I think we all could attribute our personal accomplishments to the selfless acts of others. Having a friend come over to knock back a few beers and turn some wrenches on those late weekend nights is part of what bonds the automotive family. Don't forget your friends — your team — when your goals are accomplished.
Just next door to Exclusive Customs is Mike Simmon's Automotive Detailing & Finish Restoration. Nelson and Mike have become good friends over the years and provide mutual services to each other's shops. Typically what goes through Nelson's doors, also go through Mike's and vice-versa. Again, this operation wouldn't quite come full circle if it wasn't for those closest to Nelson.
The way in which Nelson came to own Exclusive Customs was very personal. Nelson worked closely with the founder, Barry Whitman, and following his death Nelson reached out to Barry's family to purchase the property and continue his legacy. I think Barry would be proud to see that his legacy is not lost.
It's more than just classic restorations that Nelson and his team cater to. Overall paint and body is a forte of Nelson. Here Nelson is tending to a complete color transformation of his personal C5 Corvette. What was once blue is now an immaculate white, and no this isn't just a spray job done over the body panels. There isn't a spec of blue left on this car and it's that attention to detail that makes something as simple as a coat of white really stand out when you get to pore over this car in person. Now before you scroll down, this next picture might hurt just a little bit.
I assure you that this hurt the owner more than it hurts you. Just days after purchasing this R8, the owner was rear ended and pushed into the vehicle in front of him. Nelson's reputation brought this grieving owner to his shop to have his pride and joy looking like he just bought it — because he did.
There was also a C63 AMG that needed some help. Walking into this bay sort of made me cringe as I'm sure the owners did when someone had brought down the hammer of injustice on their prized possessions. Fret not, owners, for Nelson and his team will surely bring back the lustful curves of your car's body.
As the night goes on and the doors begin to close on another long day, it's important to remember those who create a support network. For Nelson it's his family. His wife and kids will also spend long nights at the shop and contribute where they can. I jokingly made a comment about it being a real family business but that statement wasn't far from the truth when he mentioned his wife taking care of financial matters for this shop. So whether it's helping a friend turn a wrench or supporting your significant other in their ventures, everyone plays a critical role in the automotive community. Be sure to not forget them when your dreams become a reality.
Without Words: