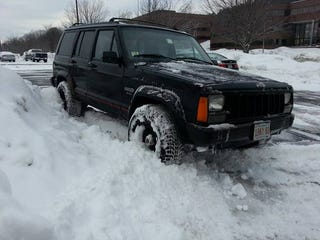 Dearest David Tracy,
It is with much regret that I must inform you that I have to sell my Jeep XJ. I realize what pain this must cause you as yet another fine 4.0L specimen goes upon the list of craig. In this case, I feel it is imperative to pint (nope, keeping that typo) this listing out to you as I feel it will fulfill a number of your requirements:
1996 Jeep Cherokee Sport - 5 speed - 4.0L
Rust free
Working heater
Just enough things to keep you busy, but not enough to keep you from getting to work safe and warm
Just far enough of a drive from MI to MA to make it a proper adventure for you.

I do have to note that the price is far above your normal operating number of less than $1000 USD. As the seller and an avid reader of your writings, I am willing to negotiate heavily on this for you, and only you. And you will have free access to my tools and supple hands for any repairs you deem fit to make, should you be interested in buying this and driving it back.
Yours truly,
JEM.