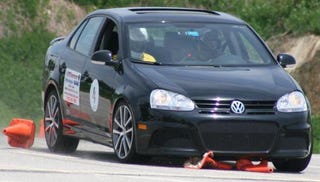 A few Opponauts and myself are planning on attending an SCCA "SOLO" autocross event toward the end of the month. We urge anyone who can come, to come, and would love to meet and interact with other Opponauts. You do not need to be an SCCA member to partake in the event either!
Here are the event details from the NNJR SCCA website.
Solo - Round 1 @ MetLife Stadium Lot E
Saturday, March 29, 2014, 07:00am - 05:00pm
All NNJR events are held at MetLife Stadium Lot E

$50 SCCA Members
$60 Non-SCCA Members

ALL novices MUST be registered by 8:30 am and are REQUIRED to attend the NOVICE MEETING in addition to the event drivers meeting. Failure to attend the NOVICE MEETING will result in exclusion from the event. A NOVICE is defined as ANY participant that has less than 4 overall NNJR events.

Lot opens 7:00 AM
NOVICES must arrive by 8:00 am
Registration open 8:15 am – Closes 9:15 am SHARP
Tech open 8:30 am – 9:30 am
Novice Walk Through 9:00 am
Course walk closed 9:30 am
Driver meeting 9:40 am
First car off 10:00 am
Pre-Registration is required. You may still register on site. Registration Closes 9:15am!!
To qualify for year end points you must compete in at least 6 points event. We will drop 2 events.
Don't worry if you have not yet taken part in an autocross or SCCA event, I haven't either! If you would like to come, please just drop a line in the comments so we have a rough idea of who/what to expect!
Special thanks to Mathias Rios for choosing the event.
Photo credit: Cumberland Motor Club