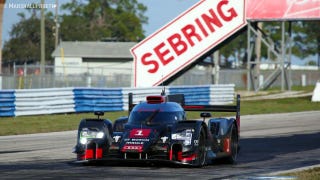 Reports from all over the web (MWM,MP,Racer,DSC) Have claimed that Audi has destroyed the Sebring lap record set perviously at 1.43 by Audi in 2013. They are saying Audi was as low as 1.40 as early as Monday.
Photo by Marshall Pruett.
P1 needs to return to Sebring. Fuck Tuscar/Nascar for banning them and making those mid engined Sprint Cup cars the "top" class. The 12 hours is a joke.