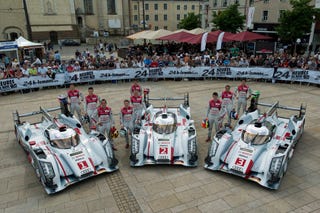 The overall 24 Hours of Le Mans winner has come from the Audi stable for ten of the last twelve events, and if a shortened Practice-Qualifying session 1 is a sign, 2013 is likely to play into the same pattern. All three of the Audi R18s entered in this year's event were faster than the next closest entry, the #7 Toyota TS030, by a full second, and the fastest of these Audis, the #2 driven by Loic Duval, lead the fastest Toyota by a shocking four full seconds. How did the rest of the classes fare?
In the GTE class, Aston Martin showed strength by taking three of the top four positions with their gulf colored V8 Vantages, lead by the Bruno Senna piloted #99. Pseudo-factory Ferrari program AF Corse held second, however, with another former F1 driver, Gianmaria Bruni, piloting their #51 458 entry. Both AF Corse Ferraris, both Manthey Porsches and the three Aston Martins held a rather logical top seven, but surprisingly, the powerhouse factory programs of Corvette and SRT Viper struggled, with even the best Corvette in 8th a full four seconds off the best lap put in by the leading Aston Martin.
In the extremely popular LMP2 class, which nearly takes up most of the grid, the Russian G-Drive Racing program leads early with their Nissan-powered Oreca 03, over a surprisingly strong Morand Racing Morgan and the far less surprisingly strong OAK Racing Morgan numbered 24.
Aston Martin Racing lead GTE-Am as well.
Both Lotuses impounded yesterday saw track time in the session, but only the #31 set a competitive time.
The session was cut short thanks to an incident in which the Thiriet by TDS Oreca 03 LMP2 entry had a major off at the second Mulsanne chicane, damaging the barriers beyond repair and ending any hopes at completing the session.
Each entry will get two more chances at their respective class poles tomorrow with two more practice-qualifying sessions, both of which can be listened to live on RadioLeMans.com.
Jalopnik will bring you an extremely in-depth pre-race guide on Friday evening and, come race time, another live blog.
(Photo via Audi Sport's official twitter page)