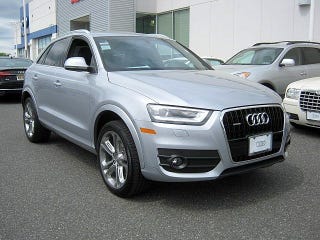 I took the S3 for its 5k mile checkup on Saturday. While I waited for my loaner, I said hello to my sales guy (mistake) as he tried to get me into a lease on a leftover S6. Luckily, I had shit to do so I could not say yes to a test drive.
I've only ever seen A3/A4 loaners, but the guy wheeled around a Q3. At first glance I thought "ick" as the overall shape is a little awkward, and the bulbous rear end is pretty ugly in person.
Once inside the car I was still unimpressed. One of the biggest gripes with the S3 is that it does not have the same "premium feel" as other Audis. That fact is even more apparent in the Q3. A/C controls are way too low, and there seems as if there is less room in the trunk than there is in the S3!
Mrs. Trip described the driving dynamics as "grumpy". She went on to say, that when I press the gas it's as if you're asking a small child to do something, then he or she responds with a whiny "I don't wanna!". I had to agree. The engine does sound like that, however it did get up and go and it handled pretty damn well for an ugly Golf on stilts.
Although I was not a fan of the Q3 overall, it did make me appreciate my own car that much more once I got it back.
Thanks for reading! I'm currently doing anything to distract myself from accepting the fact that I'm back at work!