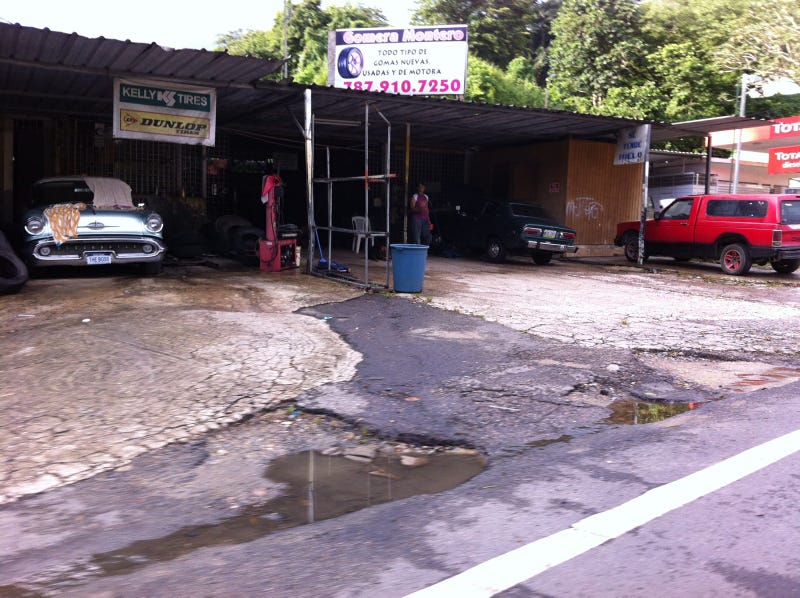 Here's a photo dump of random pictures of cars found around the island for you to enjoy. Some pictures are there just to oogle at them, others have some short description. Que disfruten.
I see this car in the same spot every single time during my monthly visits to Utuado. Notice "The Boss" license plate.
If you visit Old San Juan during the day, especially on weekends, this old army veteran will parade his car around for a couple of hours, and it catches a lot of attention. The car recently had a new paint job and took out most of the dolls he had inside the car. People call it the Chucky Car because of the Chucky doll that guards the driver's side of the vehicle. Notice the "Back from the Dead" plate, in reference to being MIA when it was being overhauled for its current cruising duty.
White van = normal; Black van = borderline candy van; Black van with "Baby's Planet" written on the rear and sides of said van = Hide your kids, hide your wife.
It's 12am, and you're hanging out at one of the many bars the Plazita of Santurce has to offer. Then, out of nowhere, this Tour de France -like mass of bike riders come with their own team of pickup trucks that carry water, first aid kits and fixing tools for their bikes and stop in front of several bars to get drinks and continue their midnight bike-bar-hopping. The sign in the red pickup truck reads "rescue.com". Their goal is to change the roads so bike riders can safely use the lanes without getting hit by a car, which unfortunately happens frequently.
This is one of the many food trucks parked around the city that only open for lunch break…
or just tell your kids this is the perfect mode of transportation when the zombie apocalypse starts.
First time seeing one around here.
It was pouring outside but wow, did that BMW looked good.
Cleanest clown shoe I have ever seen.
This is Vin Diesel's new ride in Fast and Furious 7. Just look at that oozing soot sexing it up on that bumper.
Mmm, what would I drive today, the 458 or the GTR?
This picture with the parked red Nova and the stores in the background reminds me of the Playstation 1 game, Driver.