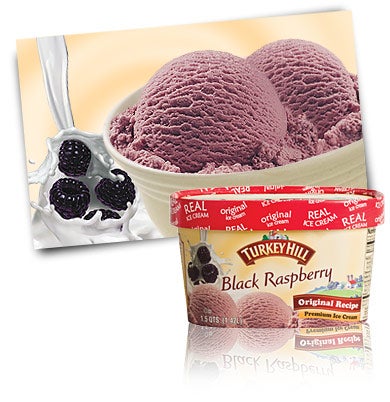 I have two favorite standby flavors that I usually crave when I want some ice cream: mint chocolate chip or some kind of raspberry/blackberry/mountain forest berry that doesn't start with straw-, blue-, or cran-.
I have no problems finding many variations of mint chocolate chip here. Blue Bell's version was legendary before that whole listeria outbreak mess, plus there are a million good, local and regional takes on the fact that mint + chocolate = delicious.

Berries, though? Nope. Can. Not. Find. In. Texas. I've had multiple searches for a good berry ice cream at the usual suspects, and NOPE.
I've been able to find a berry flavor with chunks of cobbler crust in it. That's not what I wanted. If there's anything interrupting the smooth, creamy texture of mountain huckleberries, sugar and cow-baby juice, it should be the actual berries in the ice cream. Other than that, no can do. I'm more likely to find prickly pear gelato than I am blackberry deliciousness here. Prickly pear gelato is delicious, but that's not what I'm craving here.

I finally found an Oregon Mixed Berry flavor the other day—in vegan coconut milk based ice cream. It's a company out of Oregon, so go figure. Maybe I just need to live somewhere with forests, berries and stuff again, man. In the meantime, there's an F1 track here, so I can't complain too much.

Vegan ice cream is great! I don't fart as much, plus this is coconutty on top of the berry flavor and is pretty tasty. Thing is, when I'm eating a pint of ice cream, I'm usually sad or meh or whatever, and I don't particularly care about sitting in a cloud of my own flatus when I do it. I can rip all the heinous toots I want, because I'm alone and probably watching stupid videos on the Internet with Fluffy Bunny and Jari-Matti Puffalump, neither of whom have a sense of smell. In fact, making fart noises would probably even cheer me up.

The texture is just different enough that I'd really like it if Tillamook or Turkey Hill sold their wares farther south. Both have been spotted in Texas, although not everywhere on Turkey Hill's vendor list seems to actually carry it. The Internet said that our Fiesta market was supposed to have Turkey Hill, which has a blackberry ice cream that is real, and spectacular. Nope. Struck out. Sad times.

When I need (yes, need) a tub full of sugary goodness, I'm usually going to go for some kind of berry flavor. Strawberry doesn't count. Give me some real dang berries in ice cream that I can buy from the store when I'm feeling meh, dagnabbit.

Photo credit: Turkey Hill (delicious unobtanium)

---
Stef Schrader likes berries and fish, neither of which can be found here. Grumble.