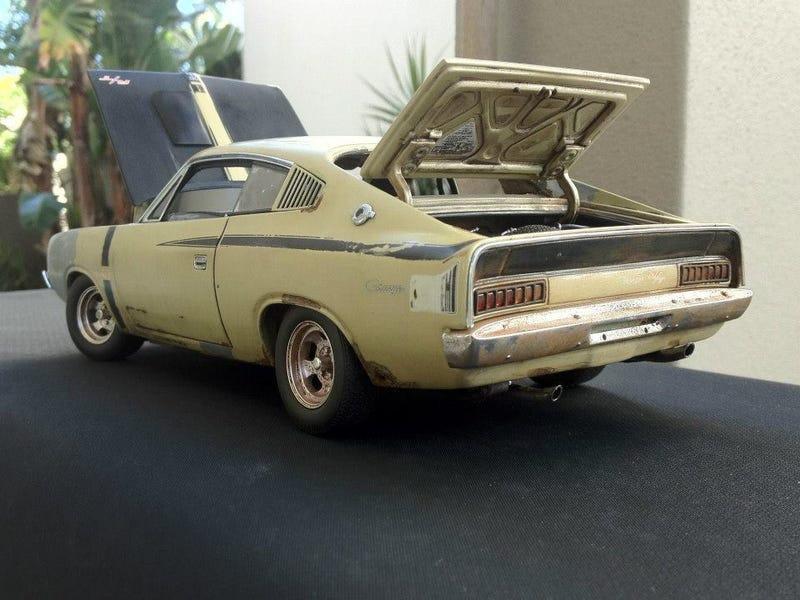 During his 12+ years as a car salesman, Scott Fuller had a model Holden Monaro sitting at his desk. Children of his clients would play with the car, doing things that kids who play with cars often do, none of them involve being gentle. Scott has since moved on to another line of work, driving those huge mining trucks. The Monaro sat in a box, forgotten, until about a year ago when Scott came across it. The car was worn from years of abuse and the paint was faded from sitting on his window sill at the dealership for all those years. This gave Scott an idea.
Scott's job involves 7 nights on, followed by 7 days off, giving him some time for hobbies. So now Scott takes model cars out of the box, pulls them apart, and makes them look as if they had been sitting neglected in real life.
The amount of detail Scott creates is staggering. Dents, missing trim, worn paint, and rust all give his models an incredible sense of realism.
He sold his first model on eBay for $90 and realized he could a little bit of money with his side hobby. His models now sell for anywhere from $200-$300 (I'm assuming AUD) after having put 6-10 hours of work into each one. I think that's a deal, considering the amount of time and level of craftsmanship the buyer receives.
Check out Scott's business, Custom Wrecks, on Facebook to see more of his work.
Original story on The Design Files.