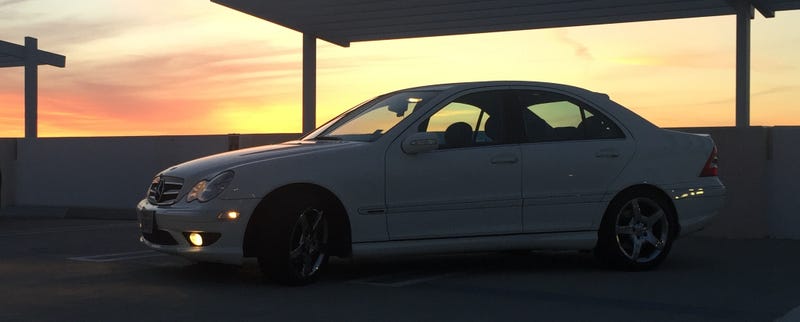 Hi Oppo! Been a longtime reader and occasional commenter, now I'm finally an author! Here's a little about me, and also car:
I'm relatively new at the whole "Enthusiast" thing (attended my first autocross a month ago) but I've followed content on cars for a long while before that. I discovered Jalopnik and Oppo a few months ago and have greatly enjoyed reading both.
About me...
Favorite car: My car! Would not be happy without it.
Favorite car I don't own: Pagani Zonda F.
Favorite transmission to drive: Manual for street driving, automatic for anything competitive on track.
My "ideal" amount of horsepower: 57 (that's right, fifty-seven!)
Most powerful car I've driven: I once test-drove a 2013-ish V6 Mustang and it was pretty fast. I aim to drive much faster cars in the future...
My daily is a Mercedes-Benz W203, known to most as a C-Class Sedan with the AMG Appearance Package. Beneath the hood is the humble 2.5l V6 making 201 horsepower. Unlike most Mercedes-Benz products, mine has a rare option box ticked:
Yes, that's a six-speed manual transmission!
It's great to finally get to post here, I'll have more content up soon!