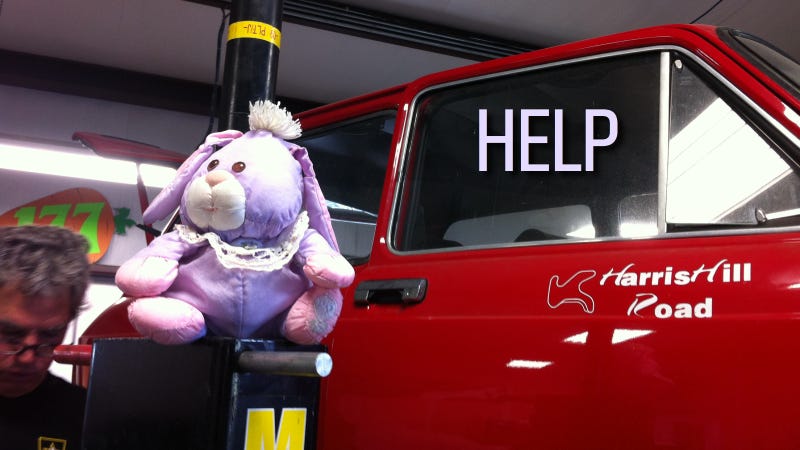 So, the A112 I learned to drive a manual on is still in need of some help—as is my Puffalump. We can't find a good diagram of the transmission to figure out exactly what's wrong with it. (Also, Puff's lace collar is a bit tattered.)
The last time I mentioned the Autobianchi, it was in need of a new Tripode. Y'all delivered, and it worked. Thanks!
Only problem: replacing that borked part didn't seem to solve the lurchy/jumpy transmission issue they're having. None of the manuals we've been able to find have a good diagram of the transmission to look at. Does anyone have one or know where we could find one?
Problem #2: Fluffy Bunny sits on racecars, gets hugs from everyone, and gets a lot of wear and tear from being adorable. As such, her sweet little twenty-seven-year-old lace collar is looking pretty sad.
I don't know if anyone has a good contact with Fisher-Price to see if they still have this particular lace on hand, but that might be a start. I've looked and haven't had time to look harder, but I've come up with nada.
Alternately, can you repair tattered lace? It's pulling apart into a big hole in the front, and this makes me sad. Fluffy needs to sit on a Porsche LMP1 car this month, and I can't have Bunny looking too sad.
Does anyone know of a good Puffalump repair place in Austin? Heh.