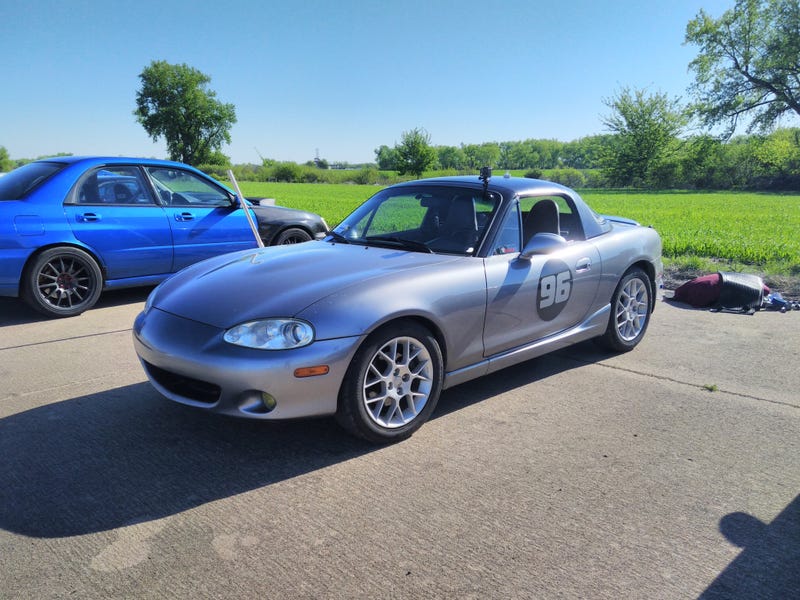 First autocross of the year with my RE71Rs, Koni shocks, and Mazdaspeed Miata springs. Fastest time was 59.719 which put me 15th in raw times and 18th in PAX out of 54 competitors. Video of my fastest time:
I left a lot on the table due to having no idea what to set my tires pressures at (I was running 40 front 38 rear, most other RE71R miata owners were running 30/25) and not being able to go full-tilt in corners because I was experiencing tire rub on right hand corners (you can hear it in the video occasionally) due to my wimpy stock front sway bar.
SCCA CLASSING RANT FOLLOWS:
In stock form my car falls in the E Street category. A Mazdaspeed Miata also falls in E Street due in part to the disadvantage given by its shite gearing despite having far superior suspension to a standard NB. My NB, saddled by the same shite gearing as the MSM, has been given the stock springs from a Mazdaspeed. The SCCA Rulebook says that to be estreet legal modifications can only come from the factory on the exact same car. So, for example, I could upgrade my springs to the 2002 Miata "sport package", which is a laughably small improvement, but upgrading my springs to stock Mazdaspeed Miata springs puts me in STR in which my car is woefully uncompetitive in despite the fact that, in its current state, my car is inferior to a stock Mazdaspeed Miata, which is an estreet car. So, yeah. I'll take my "broken Mazdaspeed" and keep competing in e-street from now on. The "autocross is serious business" curmudgeons can lick my tailpipe.
Alternatively I could run a 500/325 pound spring setup and Racing Beat sway bars and be competitive in STR. Fuck.