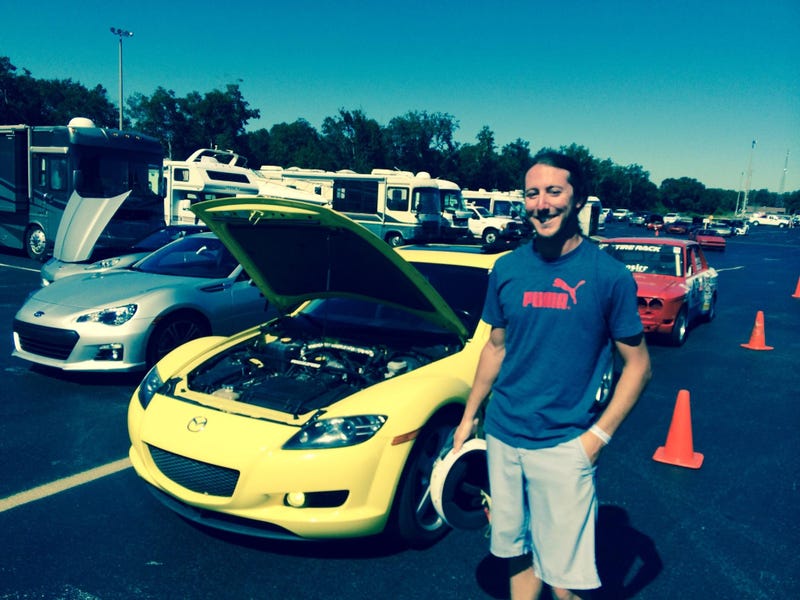 This past weekend was the last autocross of the season for my region and I took the opportunity to take the RX8 out. Normally autocrosses either consist of me driving other people's cars and doing some coaching or my buddy and I dragging the Lemons Mustang out to the events and spending all day fixing little things while making the most noise and destroying the egos of people with our $400 4-banger Mustang. I also believe this is the first time I've put a picture of myself on Oppo. Anyways... lessons learned and random stories after the jump!
Since this was the last autocross of the season, our awesome regional chair decided to put on quite the weekend. It included a Test 'n Tune event on Saturday, followed by the competition on Sunday and had limited entries for both. I only did the morning session on Saturday due to work but I got more runs than I could have dreamed of. We started the day with doing a short(~30 second) course to get a good baseline that included a slalom, skip pad, and a Chicago box. After getting a few base runs we split up into groups and ran both the slalom and skip pad separately to get the feel for how our setups were and were allowed ample time to dial them in(tire pressures, sway bars, dampers). I spent most of my time on the slalom and got a feel for the car since I hadn't autocrossed it before. After getting my tire pressures dialed in and getting bored of the slalom we took a lunch break and were allowed to run the full course again and see if our times improved. I wish more regions did events like that, it's difficult to try things when you only have a few runs that actually count towards your standings.
On Sunday we all showed up, less than 35 entrants, and got to walk the already set up course(not the same as the previous day) and get all our setups sorted out again in the paddock. Did I mention the region even provided an air compressor for everyone to use? Anyways... having smaller run groups and all made it go by pretty quickly, everyone had all 8 runs done by 2pm and the only thing left for the day was the Rookie Runoff that they were doing for people who had competed in less than 6 events so far and would determine the standings for the Novice class for the year. They rearranged the course and each rookie got 3 runs with their fastest clean run counting. Two Evo's, a built Camaro, and my buddy in his '85 86 were there 4 rookies and while my friend didn't win it, it was a blast to watch such different cars giving it all on that course.
In case you're wondering, yes that's a completely stripped and autocross prepped Datsun 510 behind me in the top picture.
Here's a link to the raw times if you're curious: http://gulfcoastregionscca.org/results/10-19-…
On a more personal note I really enjoyed the 8 out there, although you could definitely tell it was a decent bit heavier than the Mustang and that I need to work out some alignment/suspension issues to kill off the understeer I was running into. I also brought along a girl I met in school a few weeks ago and she faired well with it and really enjoyed riding along and getting to learn about the cars.