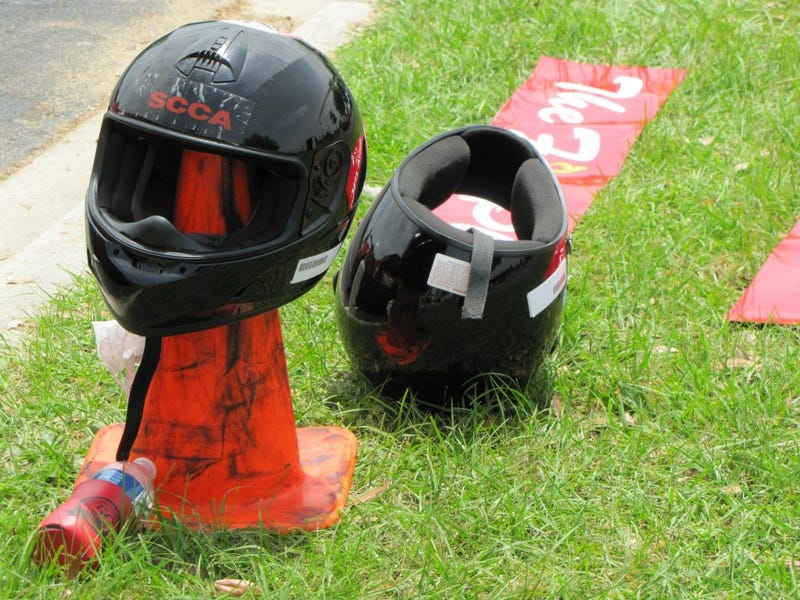 Due to my stupidity, I didn't take any pictures but luckily I'm able to find pictures off of the region's facebook from other photographers. Also, there was a NASCAR race in Darlington right after the autocross so I was in a rush for most of the day.
This is also a novice guide to autocrossing.

4:45 am
I roll out of bed and do my usual routine to get ready for an autocross: breakfast, quick shower, get clothed, get my gear, and fire up the Miata. Make sure you eat a good and hearty breakfast because it's going to be few hours before you get lunch at the autocross. I downed a bowl of cereal, a banana, about two cups of water, and a muffin. It's not the best breakfast but it held me over until noon. For clothing, always consult the forecast and plan ahead. It was going to be hot, likely sunny for most of the day, and I was going to get sweaty and then dirtier later during the NASCAR race. A t-shirt, some shorts, and a hat will do just fine. I accidentally grabbed a pair of long sports pants and my legs were sweating all day. Also, remember to grab your camera, tripod, and camera mount for your car.
5:50am
I departed from the house with my dad in our '02 Miata with a '99 hardtop. Our destination was Florence, an hour or so away from where we lived. I had to leave early since I planned on doing my working assignment early (some regions make you do some sort of task in order for your points to count for that event) so we could leave whenever we wanted to for Darlington and NASCAR. Nothing worth noting during the drive except the fact the hardtop does make a difference in wind noise when driving at highway speeds.
6:45 am
Ha, made it earlier than expected. The site for that event was a convention center parking lot, not the most fabulous of locations but open pavement is open pavement. I get a binder full of waivers and wristbands and begin handing them out to drivers, passengers, and spectators as they arrive. I got a nice tan standing out in the morning sun for two hours while my father began prepping the Miata.
8:45 am
Depending on what class(es) you run in, you can tweak your car up to a certain point. I run C stock, which includes the supercharged and turbocharged MR2s, RX-8s, FR-S/BRZ's, and the usual NB and NC Miatas. All we could do was reduce weight (along with cat-back exhaust, tires, and one sway bar) before the event so that meant once we parked in the makeshift paddock, everything came out that wasn't bolted down ('cept the spare tire, that came out). All the floor mats, the car jack, the camera equipment, and anything else that added unnecessary weight. Think Lotus here. We kept the hardtop on because of laziness and fear it would rain that day (it didn't).
This time is also when you make sure you're registered for the event and that your vehicle has been inspected and approved by tech. As long as it isn't a deathtrap, it should pass. I got a warning that my battery wasn't properly secured event though it's like that stock. Oh well, I'll address that later.
9:50 am
Finally, it's time for the driver's meeting after being behind schedule by 15 minutes (expect it when something like this is run my volunteers). The staff goes over basic rules about behavior, where to park, how many runs to expect, and etc. There's also a novice meeting held afterward which should be required since a lot of novices don't go to it and screw up later on working the course or driving around.
10:10 am
Walking the course might be anyone's best chance of learning the course next to driving it. Figure out where your driving line will be or else you might get out or rhythm ..or just get lost and miss the course. Note braking points, changes in elevation like bumps and rain gutters, and other parts of the course.
10:30 am

I was in the first group of three so I got to go out first along with about two dozen other drivers. All drivers in that run group bring their cars to the grid and do some final touches before being sent out to the course. During this time I just talked with other drivers in my run group and asked others if they could come along as a passenger and coach me.
10:35 am
I'm finally up for my first run. It goes well but I noticed I'm still unfamiliar with the course because of all the hesitation going in and out of corners. Next time I need to walk the course 3-4 times instead of just once. However the Miata is running fine on its knock-off brand summer tires and just a quarter of a tank of gas. Time to complete: 52.x seconds
Run number two saw faster times and less fear going into the corners but I know I can knock another 2 or 3 seconds off my time. Time to complete: 51.x seconds
Run number three was ever better until I was exiting a long left sweeper when the Miata suddenly fuel-starved itself. There was a little under a quarter of a tank of gas left and Miatas aren't know the fuel starve. My passenger (owner of a raw CRX race car) guesses it might be the fuel pump. I'll have to get it checked later this month. I sent my dad out to refuel the Miata, I told him to only get two gallons but he filled it up completely, damnit that's more weight. Time to complete: 54.x seconds.
Run number four....this was the one I goofed up badly. I felt compelled to make up for my previous run and gave it everything through the corners. The car felt fine, it rotated perfectly around the cones without knocking down a single one. However, weaving through a line of cones, I entered a small left-right kink before a short straightaway. I figured I could punch it (not a lot of juice in the Miata to begin with) and shoot through the kink and onto the straight. Right?
Nope.
The next thing I knew, the back end of the Miata went loose and the car was doing a one-eighty spin. My mind reverted back to words said during the driver's meet. When in a spin, both feet in. I slammed the clutch and brake down, locking up my non-abs Miata's wheels, and skidded about twenty feet before coming to the stop. I looked out my window to see that I was no more than two and a half feet from the rear wheels meeting a nice big curb. I just turned the car around and finished my run in self-placed shame and on flat-spotted tires. Time to complete: 105.x seconds + DNF
Run number five I went back out with no fear. I did my best to shake off my damaged confidence and just drove the best that I could. However, looking back on my footage, I could have turned a lot sooner and got the back end slightly loose during the sweeper that wasted the half-second I needed to beat a FR-S. In the end, I'm still happy because it's faster than all my other runs...and that I remembered to turn on the camera. Time to complete: 50.1 seconds
I really wanted to win my class but in the end, I'm here for fun and to learn. Boy, did I learn today.