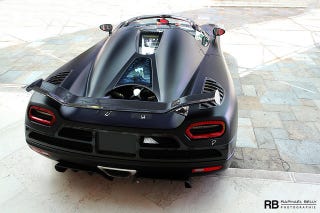 The Ghost on the Shell you see over the engines comes from the 1 Squadron of the Swedish Airforce. The building they ended up using after their first building burnt down just happened to be the hangar for this squad. In the 1930s, the group would fly out before dawn and come back after dusk, leaving the locals only hearing the planes but never seeing them.
The moniker of the squadron was, "The Show Must Go On." Literally in English, not a Swedish form of the saying. So when the time came for them to shut down, the requested that Mr. Koenigsegg adopt the Ghost so that the show could truly continue on, and honor the squadron.
Have a Saab for your time.