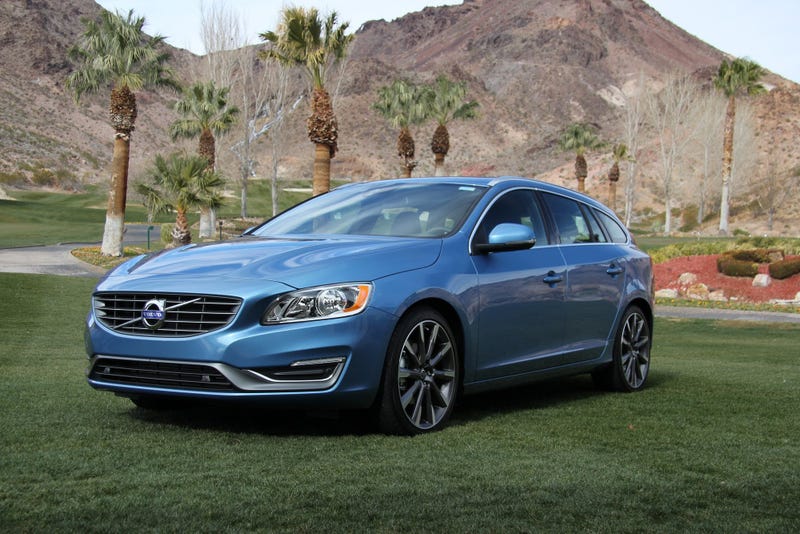 2015 V60s are already $30K vehicles. Im talking clean and barely driven examples are right on that line. Your double-annual mileage examples are hitting $25,000. This means there is about to be a wave of 240hp to 325hp 4, 5, and 6-cyl compact wagons falling between $18,000 and $30,000 in another 18 months.
Just remember that for the 2015 MY:
All 4-cyls (turbocharged and supercharged) are FWD but are setup for regular gasoline. An 8-speed auto and 240hp @ 5600rpm, 258lb-ft @ 1500rpm (280lb-ft for 10 seconds on overboost). EPA 25/37mpg (27mpg realistically though)

The 5-cyls are the AWD models. You get a 6-speed automatic, 250hp @ 5400rpm and 266ft-lbs of torque @ 1800rpm on regular gas. EPA 20/29mpg (which will run closer to 24mpg). Not a bad fall for AWD and a 5-cyl.

The Cross Country is one step better because ground clearance and body cladding. This one will also likely hold its value better than any other V60 of this model year. Expect the real world mpg to drop to 23 mpg if not 22 mpg.

The 6-cyl R-Designs use the same 6-speed auto and AWD as the 5-cyls. Upgrades are more aesthetic and sport based. You get 325hp @5600rpm and 354ft-lbs of torque @ 2100rpm supposedly on regular gasoline like all the rest. EPA 19/28 mpg which will likely show up between 22mpg and 24mpg for you.

If you live in a dry climate at high altitude (like myself), the FWD model is honestly the best car. Elevation means the vehicle makes more power than the 5-cyl while pulling around a lighter vehicle.
If you live somewhere that accumulates snow, go Cross Country. If you plan to trade-in rather than run it until the paint falls off...go Cross Country!
If you live somewhere that worries more about rain than snow, the T6 R-Design is going to be a Swedish Subaru WRX STI.
I know, no manual! But seriously? Seriously?! That's what Miatas, BRZs, and STs are for. Hell, by mid 2018 you'll be able to have your pick of clean AWD 2015 V60 for $24,000 and a 2014 Ford Fiesta ST for $14,000. Now, a Focus RS will still be cheaper overall while doing both jobs. Either way you go on the choice, that's pure win!
Personally, I think a FWD, 2015 V60 will be the next car I purchase. Thank you living in Albuquerque, where the version no one wants of a vehicle is perfect!
I'll have a RWD, V8 Grand Cherokee, and a FWD, 4-cyl Volvo Wagon in two/three years...wobbles the mind, amiright?
*Side Note: Fiesta STs are the least driven cheap cars I have ever seen! Go check it out!!