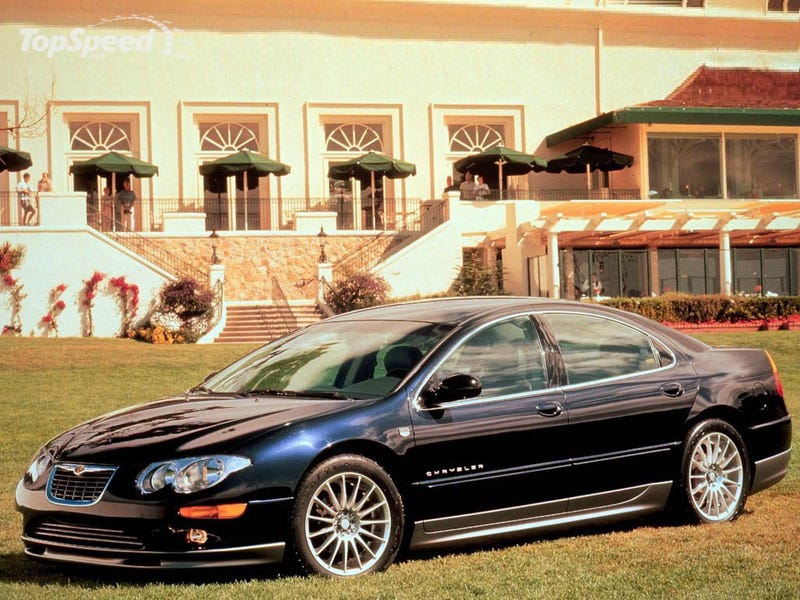 Some of you may not remember that prior to the Ralph Gilles' styled Chrysler 300 cars (2003-2010, 2011-present) there was an intrepid little FWD, sub-300 hp sedan that, err...revived the 300 nameplate. The vehicle was the 300M. Unlike the current 300S and 300C, the "M" in 300M was not a trim level but the model designation and continuation of a series that ran for decade before fading away.
Back in 1955, Chrysler decided to make a luxury sports sedan known as the C-300. The "300" stood for Chrysler's top shelf 300 hp, 5.4 L "FirePower" HEMI V8 inside of it. Also worth noting, in 1956 this became the first American production car to hit 355 hp from a 354ci engine (first to exceed 1 hp per cubic inch), so the 300 can be seen as one of the many stepping stones to the muscle car era nearly ten years later. It was also advertised as the "World's Fastest Stock Car" during its time in NASCAR.
I mention these things because it's silly that we don't have an SRT or SRT Hellcat of this model due to those variants "not fitting the personality of the current car" even though they fit the heritage perfectly.
Well anywho, Chrysler decided to begin a "Letter Series" where they bump up the letter every year in order to denote the performance increase on the top models, and honesly, every freaking year from 1955 to 1965 the thing got some type of boost in power, displacement, or engine tech. The general summary is like so:

1955 C-300 (retroactively named 300A), 300 hp 5.4L

1956 300B, 340-355 hp 5.8L

1957 300C, 375-390 hp 6.4L

1958 300D, 380-390 hp 6.4L

1959 300E, 380 hp 6.8L

1960 300F, 375 hp 6.8L

1961 300G, 375 hp 6.8L

1962 300H, this is the point where a Sport-Series was added and wasn't much different from the "H" badged car. Very much like the current 300S vs 300C.

1963 300J, (skipped "I" since it looks like "1")

1964 300K, 385 hp

1965 300L

... (there's a Hurst in here for 1970) ...

1999-2004 300M, 253 hp 3.5L

2005-2010 "300N," 250 hp 3.5L / 340 hp 5.7L / 425 hp 6.1L

2011-present "300P," (skip "O" because it looks like "0") - 292 hp 3.6L / 363 hp 5.7L / 475 hp 6.4L
When it comes to the upcoming "300Q," I'm very doubtful it will be RWD. My bets are on a large sedan based on the Pacifica platform that will be in line with the next gen RLX, new Continental, and S90L (because we all know it's coming). But it will probably be mostly AWD and have 300 hp standard, almost a reset of the 1955 Chrysler C-300 with a focus on luxury with big power options like those original cars. The next gen Charger will be the go to.