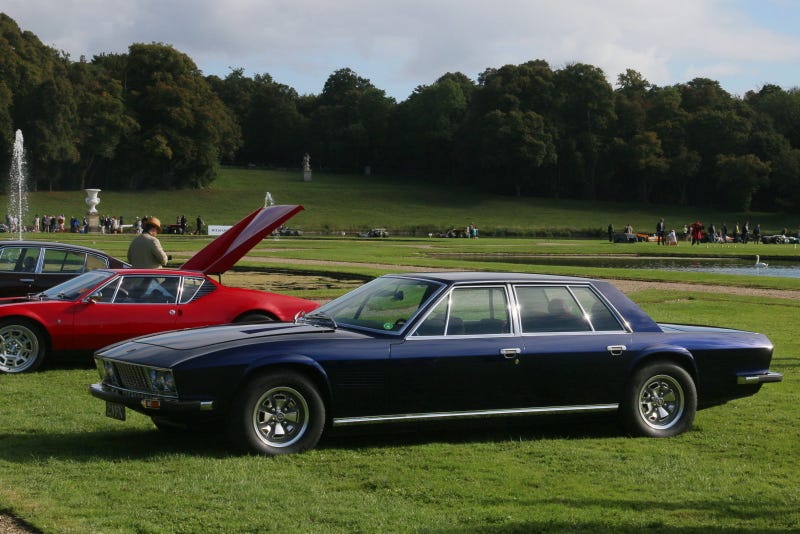 Youre a wealthy Swiss builder of racecars in the 50s and decided to sell Ferraris and other exotics before starting your own road car business out of Basel, Switzerland. Enzo Ferrari comes along and publicly insults you. If that last part sounds familiar then you know where it's going. Really though, how many cars and companies did Enzo grow by spitting on the ground before them?!!
Peter Monteverdi decided to build a line of grand touring cars in order to prove Ferrari wrong, as was the fashion in the 60s. Monteverdi had the designs done in Italy by Frua (Pietro Frua was a reknown designer/couchbuilder during the period) and built by Carrozzeria Fissore (another couchbuilder that had worked with TVR, De Tomaso). Monteverdi, like Jensen, went for the 375 hp / 350 lb-ft producing Chrysler Magnum 440 Hemi V8 engine for the powerplant. Mix in some of that fine Swiss precision and rationale and you got yourself some serious GT cars!
The homegrown practicality in him eventually compelled Monteverdi to build more affordable cars including SUVs, but it was that exotic start that made the name.
*It is also worth mentioning, since the opportunity is right now, that even though Fissore wasn't as well known as Pininfarina or Bertone they were still everywhere and well respected. Since they were struggling in the late 60s this partnership kept them alive and Monteverdi ended up owning Fissore and switching them to a more industrial style of car building around 1976. However, once Monteverdi closed up in 1984 so did Fissore. Seriously, Monteverdi was on the verge of being a mainstay automaker.
Feel free to post some Monteverdi cars, they all are pretty cool (especially the Hai 450 SS prototype). I love me anything from the High Speed Series but the Berlinetta gets me everytime. Probably because I'm a Maserati man and Monteverdi was definitely on the same page.