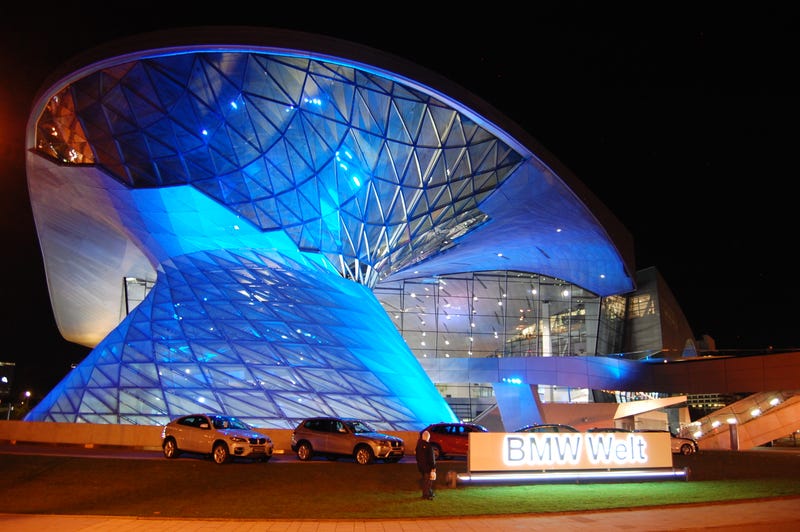 The Story:
As I was coming upon the end of my then current lease (2011 Kia Optima EX-Premium), I figured I would upgrade my car to something I could truly fall in love with. My weekly work schedule is usually between 60-80 hours, per week, and as a result, I decided that if I was going to make a car payment, it had to be THE car. As a result, I started test driving options. The ATS, CLA250, 328i, A4/5, S60, and Infiniti Q50 were all in the running as was the LR Evoque. After alot of testing, I finally drove the 3 and promptly fell in love.
After talking numbers with my local dealer, and getting pretty abysmal (by KIA standards) service, I decided to start shopping around. I wasn't going to let an uninterested dealer stop me from what I wanted. After lurking for a while on Bimmerfest, I came in contact with a dealer in FL. They made the process incredibly simple and painfree. Emails were exchanged, and after a million questions, I finally placed my order.
The BMW European Delivery Program:
Most cars in the USA are sold by dealer allocation. This means that a dealer gets a certain number of cars from the manufacturer. Those cars are built to the dealer or customer spec and sent over. Limited production models (M lines for example, and now the i Lines) are generally like this. Because the dealer has a certain number of cars they are allowed, they sell each at the highest price they can get since thats their primary revenue avenue. With European Delivery, the car is sold by the manufacturer directly to the customer, with a dealer handling the paperwork. As a result, with BMW, Audi, Mercedes-Benz, and Volvo, the savings are passed along to the customer. and Mercedes-Benz have an official 7% discount off US MSRP, Audi is around 6%, and Volvo 5%. Other perks are that you get a custom built car, European registration and insurance, hotel and airfare deals, and shipping back to the US built into the program. With BMW however, unlike others, the discount can be as much as 14% depending on rebates, and dealer hold back. Additionally, you do not pay dealer training fees and such, saving another 300 dollars. Generally speaking, savvy customers can negotiate with the dealer a deal based on European Invoice + 500 to 1000 dollars, with the latter being the dealer profit. So from a dealer perspective, they sell an extra car that month, and get paid 500-1000 to handle the paperwork. From a customer perspective, you can use any dealer in the US, plus you get a substantial discount and an incredible experience.
Knowing all of this and thoroughly combing the various BMW forums, I found a dealer and started the build process. After much going back and forth, I settled on the build and paid a deposit (Late August) and set a delivery date of 11/4/2013 in Munich.
The Build:
I added on heated seats to this pack, to bring the total to $46,675
The Tracker:
BMW has a fairly impressive order tracking system that allows you to follow along with the car's progress during production. While it could be updated with more frequency than it is currently, its better than nothing.
The Build Sheet:
With the paperwork signed 10 days prior to delivery, everything was ready!
The Trip:
Now that I had my car ordered, I needed a traveling companion. For the past few years, work and school have kept me far from home. As a result, I have not been able to spend as much time with my dad as I have wanted to. Given the opportunity to have an adventure, I asked to see if he was willing to go with me. He had never been to Germany or France, and so after promising that we'd make it to Paris, he finally agreed to go with me. Then the real fun began.
The Plan:
November 1st
CAE -> ORD (UA4293)
ORD -> MUC (LH435)
November 2nd
Land in Munich
Take train (S8) to OSTBANHOF
Check in at hotel – Residence Inn Ostbanhof
Marienplatz/Viktualienmarkt/Schrannenhalle
Walk around downtown
Dinner at TAVERNA DIYAR – at 800PM
November 3rd
BMW Welt/On Demand/Adrenalin Tour
BMW Museum
Walk around downtown
November 4th
BMW Welt - DELIVERY
BMW Factory Tour
Munich to Fussen – 2hr 30 min
Castle Neuschwanstein
Dinner in Fussen at Ristorante Pizzeria il Pescatore – 1700 hours
Stay at Hotel Sonne
November 5th
Morning picture outside Castle Neuschwanstein
Drive to Black Forest
Head to Stuttgart
Koeningstraße/Schlossplatz
November 6th
Mercedes Museum
Drop off car in Sindlefingen
TGV to Paris, get in at 1030pm
November 7th
Breakfast in Abbesses - Au Levain d'Antan" 6, rue des Abbesses, Paris 18th
Place de Concorde -> Tuileries Gardens -> Rue de Rivoli -> Louvre -> Pont-Neuf -> Ile de la Cite ->Sainte-Chapelle-> Notre Dame-> Ile Saint Louis -> Shakespeare and Co -> Latin Quarter
November 8th
Arc Du Triomphe
Champs Elysees
River Cruise
Champ de Mars – Eiffel Tower
November 9th
Champs Elysees
Pont Alexander III
Les Invalides
Sorbonne
Place des Vosges
November 10th
CDG ->CAE
After landing in Munich, we quickly collected our luggage and headed into the city.
BMW has a large facility called the BMW Welt. It is connected to the BMW Museum, Headquarters, and Plant Munich. This is a customer experience center, with representative models from all their brands (BMW, Mini, and RR, plus BMW Motorrad). Its stunning in person and lit up at night.
The next morning, we woke up early and headed back to the Welt. I had arranged to rent an Alpine White 2013 BMW M3 for the day. BMW on Demand gives you the ability to drive their entire line for a per hour charge. I chose the M3 and off we went. The navigation system had a pre-programed mystery tour selected that was to show us around the areas around Munich for 2-3 hours. While the weather wasn't forgiving, the car was intoxicating and proved to be quite the apertif for the following day's main event. We ended up grabbing lunch at a Turkish Doner Kebab place near the Hauptbanhof (central train station).
After returning the car, we headed across the bridge, to the BMW Museum (click for pics), which was hosting a Rolls-Royce Exhibit.
The Next day was DELIVERY DAY!
Upon arrival to the BMW Welt, they check your bags, similar to an airline, then usher you upstairs to the welcome lounge, using a special elevator. Upon arrival to the lounge, you sign the legal documents for the car. You then check your coat and relax in the lounge, stocked with food and drinks. Its very similar to an airline business class or first class lounge.
After a while, your delivery expert comes and picks you up, then takes you downstairs to a driving simulator, to show you the various technological innovations. After playing around on the driving simulator for a while, the specialist gets a message on their iPad letting them know the car is ready. Then you take the elevator back up and take a very long staircase down. Halfway down the stairs, the specialist pushes a button on their iPad, signaling the lights to adjust and spotlight on your car, and then the platform rotates. This is to maximize the first look. You then descend the staircase, and the car is there, rotating under the spotlights.
They hand over the keys, and go through all of the features of the car. The specialist helped set up my phone and navigation system. Then we took a photo or two, which are printed on the spot as mementos. With the luggage loaded up, you take a victory lap around the facility, then exit the Welt via a ramp.
Once outside, the valets take your car, and park it out front by the BMW Welt sign, and you are then ushered back in to the lounge to await your factory tour of Plant Munich, which builds the 3 and 4 series.

Because the BMW Welt is a customer experience center, it has displays of all their models, including BMW Motorrad and Rolls Royce. Live displays are common.
Right after delivery, Dad and I made a Bee-line for Fussen and the German Alps.
After the photo shoot in Schwangau, we headed for our next stop: Stuttgart, by way of the Black Forest.
Outside of the Black Forest.
The next morning, we ventured to the Mercedes-Benz Museum (Pics to follow).
Then washed and fueled the car up before turning it over to the shippers.
We then took the train into Stuttgart Hbf and enjoyed the city before taking the TGV to Paris for the last leg of our trip.
Spending 5 days in Paris, we finally flew home. Overall an absolutely incredible trip with many surprises.
The car wouldn't return stateside for another 8-10 weeks, but I knew I was in for part two, because it would be delivered to the BMW Performance Driving Center in Spartanburg, SC...